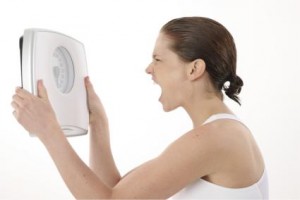 Even though there are a lot of how-to guides when it comes to diets and weight loss, there are three common mistakes that almost everyone makes.  So, whether you are trying out the South Beach diet, Weight Watchers, Paleo, or some combo of your own, there are three things to watch out for.
1. All or Nothing
This is my favorite, because I have been guilty of this more times than I can count. It starts out great. The kitchen is wiped clean of anything that does not go with the weight loss plan.  You become the most diligent dieter for three days, five days, or even a couple of weeks. Then something takes place that throws you off — a Super Bowl party, birthday cupcakes in the office break room, too many cocktails and a bar filled with fried food.  One slip means disaster, and it is an excuse to throw the diet and the progress out the window. If this sounds like you, here is a question.   Do you honestly want to lose weight permanently, or just drop a few pounds so that you will be able to enjoy putting them back on again? There is not a right or wrong answer, but to be successful at permanent weight loss, you have to be honest with yourself.   If you know you really want permanent weight loss, check out this article about how to get back on track. http://fitchicktricks.com/foolproof-way-to-get-back-on-track/
2. Perception of Compromise
Another common error is to view dieting as a specific period of sacrifice. You don't allow yourself to eat certain foods… usually your favorites, until you get to your goal weight.  You may do great on your diet, and reach your desired weight, but then what? You have not learned to eat 'bad foods' in small amounts, so when you go back to 'normal', things can get out of control. It is more beneficial to add a little of everything in your diet and learn how to enjoy the decadent foods in smaller quantities.  It just takes practice.
3. Goal Frustration
Setting goals is important in any weight loss plan, and goals need to be clear, sensible, and realistic. It also helps if they are set in writing. Most people have that perfect number for their weight loss end game, but how does that translate on a week by week basis. Another way to approach your goal is to lose two pounds per week for the first five weeks, and then one pound per week after that. Some weeks you will drop more and some less. Some weeks you may possibly even gain, but if you keep track of your weight loss on a chart, you will find that those ups and downs do not stop you from making progress to that perfect number.