The Smart Pantry – Three Tips For When You Forgot To Plan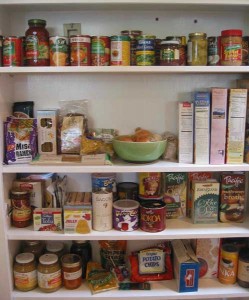 I have a love hate relationship with grocery shopping. Since I can remember, I have always done my grocery shopping once a week. I like planning my meals for the week and buying all the ingredients. However, the grocery store is really a land mine of temptation. At every turn there is an isle or an end cap display of something that looks really yummy. It would be torture to go to the grocery more than once a week. It takes a lot of will power at the grocery, and I never go when I am hungry. 
I also make sure to buy a few healthy extras each time, just in case, because sometimes  I am short a meal, and I find myself with no plan for dinner. Poor planning  happens to everyone, but rather than call Papa (John that is) I will "throw together" a mish mash of items. At times like these I try to use a one-two-three approach to making a balanced meal:
1. Make it "Whole" by picking whole grain version of pasta, rice or bread.
2. Make it "Lean" or "Extra Lean" by searching for cans of tuna packed in water, skinless chicken breast, lean ham or extra lean beef.
3. Make it "Colorful" by using a variety of fruits and vegetables.
There is always something in the fridge and pantry that can be used for dinner, and when I use the one-two-three approach, even though it wasn't planned, I can feel good about what I am serving and eating.