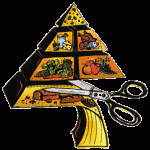 The littlest swaps or tweaks can make a big difference. There are all sorts of ways to cut calories here and there, but here are some of my favorite food swaps you can make to cut 150 calories from your menu.
1. Use mustard instead of mayo on sandwiches. There are so many different kinds of mustards that can add incredible flavor to any sandwich.
2. Buy 6-inch low-carb, whole-wheat tortillas instead of the 10-inch flour ones. Not only will you lose calories, but you'll also get four times the fiber!
 3. Avoid soda and juice and drink water instead (or unsweetened tea). One can of regular soda contains about 140 calories  Surprisingly a glass of juice contains almost as many calories, and like soda contains mostly sugar.
4. If you need a potato fix, try a baked potato instead of french fries. Potatoes are not the enemy, but don't go crazy with butter and sour cream.
5. Keep 100-calorie popcorn snack packs on hand to eat instead of a bag of chips from the vending machine.
6. Skip the grande Caramel Macchiato at Starbucks and opt for a small latte with skim milk instead.  Save that coffee dessert for a cheat day.
7. Trade in a normal bagel for a toasted whole-wheat English muffin.
8. Load your pasta with veggies to cut calories but not bulk. Instead of two cups of pasta, try one cup of whole-wheat pasta and one cup of cooked veggies. (Remember to cook whole-wheat pasta longer for the best taste).