Detoxing Your Body While Losing Baby Fat
I am so excited to welcome Mansi as my guest poster this week. Read on for realistic tips and strategies for detoxing and losing fat.
Two days back, while having my usual fruit salad I wondered what could be the difference between fasting and dieting, since I call my monthly detox diet a "fruit fast".
Just to bring things into perspective, let me tell you, I'm not allowed to fast and considering my present weight, dieting is something I don't need.
"Fasting is where you shun all kinds of food items and eat only once a day, but in dieting the food items in every meal are restricted to a few basic ones."
When I think of days like Ramadan, Lent, Yom Kippur, etc. I realize that there is a spiritual element associated with fasting. But that's not the case with dieting.
We do it just to lose weight.
However, I do it to flush toxins out of my body every month. Beginning each month with a clean slate feels amazing.
That brings me to the nine months of pregnancy, where you get a free ticket to eat whatever you want and are exempted from any kind of judgment on your weight or shape. That's certainly a bliss.
Although, my source of worry is the toxin build up in the body.
Ideally, one should wait for a 6 month period to begin the postpartum weight loss schedule. And that does make sense. After all, breastfeeding helps you lose weight too.
Still, we want to work on dropping pounds from the day one and get back the body we once owned.
So ladies! Sit tight, for I'm about to tell you three simple steps to get there without having to compromise on your baby's nutrition or your own health.
Step 1: Get Real
Yeah, you heard me! Get real!
Gulp in this fact that you will not get your pre-pregnancy body back in the exact same measures, unless you are Kim K. So, are you?
I knew it.
Hence, do not push yourself physically or mentally. Keep calm, because what might not happen in 6 months postpartum, will happen in the coming year when you'll be running around the house to feed your toddler.
Step 2: Go for a Fruit Fasting
As I already told, that's my personal detox ritual. I stuck to this one after having tried a lot of others like the lemonade detox or green smoothies which always, just always left me craving and lethargic.
How I fruit fast every month, for three consecutive days –
Take fresh seasonal fruits and cut them into cubes. The colorful the platter, the better.
Sprinkle a little salt for taste.
Poke in fork, smell each cube and relish it.
If I feel thirsty, I go for coconut water, which is again detoxifying and nourishing. Plus, it does wonders for my skin and hair. I completely avoid milk or any kind of fats during this time.
I also make it a point to drink at least a big glass of pomegranate juice or ABC miracle drink.
If you try this out, remember not to mix sweet fruits like banana with sour ones like orange and grape, as these interfere with each other's digestion and end up producing more toxins.
Step 3: Boost the detox and weight loss
I pride myself in calling a yoga devotee and practice it five times a week. Working out regularly would not only make you fitter but would also aid in the elimination of toxic substances.
Here, I'm listing five yoga poses that specifically work towards this.
Pose 1: Wind Relieving Pose (Pavanmuktasana)    
Begin by lying down on your back. Keep your arms on your sides and body relaxed.
Slowly lift up one leg and bring your bent knee close to your abdomen. In an attempt to do so, if your other knee bends a little bit, it is okay.
Now, raise your arms to hug your bent knee and bring it closer to your chest. Hold your breath and this position for 5-10 seconds. Exhale and release.
Repeat the above steps with the other leg too.
Benefits other than detox – reduction in belly fat
Pose 2: Cobra Pose (Bhujangasana)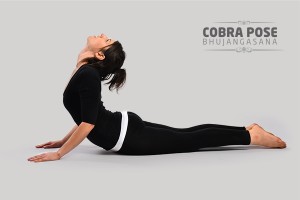 Lie down on your stomach and relax till you are able to breathe normally.
When you are comfortable, fold both your arms to place your hands just below your shoulders.
As you inhale, push down the floor and lift up your torso in air like a snake. Remember to keep your toes lying flat on ground with soles facing up.
Hold this position for 5-10 seconds, exhale and release.
Perform it twice every day on an empty stomach.
Benefits other than detox – toned back and stronger arms
Pose 3: Half Lord of fishes Pose (Ardha Matsyendrasana)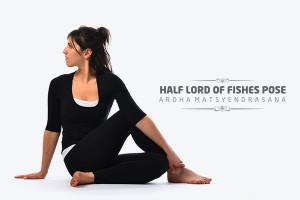 Sit with your legs stretched out in front, back straight, shoulders relaxed and arms on the sides.
Fold your left leg and rest your left foot beneath your right hip.
Now fold your right leg and place your right feet close to your left hip. Your sole should lie flat on floor with knee pointing upwards.
Twist your upper body towards left and try to grab hold of your right ankle with your right hand. Feel a stretch on your right abdomen. Enhance this by taking your left arm back to touch your back.
Hold this position for 10-15 seconds. Exhale and release.
Repeat it on the other side too. Practice it twice every day.
Benefits other than detox – disappearance of love handles
Pose 4: Sun Salutations (Surya Namaskar)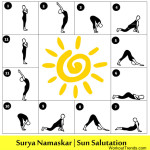 Sun salutation is an intense yet incredibly helpful sequence of 12 yoga poses. It is not possible to list all its steps here, so follow this link for complete steps and breathing technique.
Benefits other than detox – a full body stretching and strengthening workout in 5 minutes
Pose 5: Corpse Pose (Savasana)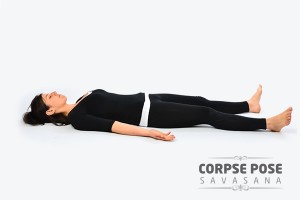 This is a relaxing and rejuvenating pose which helps eliminate all the 'mental' toxins which get accumulated inside our minds. All you need to do is lie down on the floor in a relaxed position and focus on your breathing. Turn your head towards a side, close your eyes and relax.
Must practice – Bellows breathing or Bhastrika pranayama
This breathing technique cleanses up sinuses and helps exhale toxins out from the respiratory system. However, those with migraine or blood pressure issues should not perform it.
Initial position: Sit in a comfortable position, either cross legged or on a chair. Keep your back straight and shoulders relaxed. Bend your elbows to bring your fists closer to your shoulders. This way your fists face up the sky and elbows towards the floor.
Inhale deep on a count of 3 and raise your arms in the air spreading your fingers apart.
Now exhale in a short quick bursts on just one count and forcefully bring your hands back to the shoulders making a fist.
Do this 20 times in a row. Discontinue immediately if you feel light headedness.
Well, that's all for the postpartum detox – A diet you can follow and a fast you are allowed to do, plus a simple yoga workout to leg up your weight loss plans.
Try them out and let me know how it felt.
Author Bio:
Hi! I'm Mansi, an ashtangi at home and an Editor at an online health magazine. Dabbling with health and fitness news is my work while playing around with poses and poetry my passion. Reach out to me at @iam_mansi or add me to your Google circles and stay in touch.