Understanding Why Protein is Important to Weight Loss
Protein, protein, protein.  It seems like so much advice out there tells us to eat more protein if we want to lose weight.  This is actually great advice, but some of the articles make my eyes glaze over with all the technical reasons for WHY.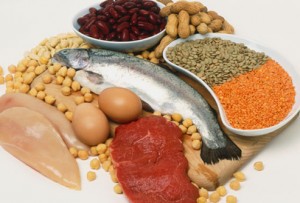 I recently read an article on Fitbie.com that explained the ins and outs of protein, and you don't have to have a masters in nutrition to understand it. 
 At any given moment, even at rest, your body is breaking down and building up protein, says Jeff Volek, PhD, RD, nutrition and exercise researcher. Substitute the word "muscle" for "protein," and you quickly understand just how dynamic your body is, and how your muscle content can change considerably in the course of just a few weeks.
 Muscle doesn't come just from pumping iron.  Muscle buildup is triggered by eating protein. In fact, every time you eat at least 10 to 15 grams of protein, you trigger a burst of protein synthesis. And when you eat at least 20 grams, that period of synthesis lasts about 3 hours—and that means even more muscle growth.
 Here's a quick look at what those numbers translate into when they actually hit your plate.
 20-30 Grams of Protein
1 4-ounce ground beef patty
1 large chicken breast
1 4-ounce sirloin steak
1 large egg vegetable omelet with 3 strips bacon
20 large peel-and-eat wild shrimp
1 haddock fillet
1 6-ounce pork chop
1 6-ounce serving tempeh
10 to 15 Grams of Protein
1 fruit-and-yogurt parfait with granola
2 medium carrots with 1/2 cup hummus
3/4 cup chili con carne
1 serving spaghetti with meat sauce (10 ounces)
1 pouch chunk light tuna
1/2 cup oatmeal with 1 cup 2% milk
12 ounces low fat chocolate milk
6 ounces Greek yogurt
2 Tbsp peanut butter on whole wheat
 Most people end up eating the majority of their protein at dinner. That means you might be fueling muscle growth for only a few hours a day, probably watching TV before you go to bed. The rest of the day, you're breaking down muscle because you don't have enough protein in your system.
The single most important diet upgrade for people who want to lose weight is to eat protein for breakfast.  More on that in my next post.
Your FIT Plan
Eat protein at all three meals, which can include meats and eggs or other options such as cheese and milk. If you can boost your protein intake to between 0.5 and 1.0 gram per pound of body weight, this will preserve your calorie burning muscle mass. That means aiming for approximately 20 grams of protein at your main meals, with options like a chicken breast, a hamburger, or a fillet of fish. For each snack, eat at least 10 to 15 grams of protein, such as two hard-boiled eggs, an order of rice and beans, or even a classic peanut butter sandwich on wheat bread. And when in doubt, reach for milk or cheese.
 When it comes to snacks, we don't usually carry around a grilled chicken breast, and the best sources of protein—fish, meat, dairy, and beans—aren't quick and convenient to eat. When you're on the go or too busy to cook, reach for one of these great "grab and go" protein snacks: 
Jerky
Raw Almonds
Protein Powder
Hard Boiled Eggs
String Cheese
Yogurt
Cottage Cheese
 Make a commitment to include protein in EVERY SINGLE MEAL, and you will start to really preserve your calorie burning muscle mass.