When it comes to discipline and willpower, everyone has their own strengths and weaknesses. For many of us, trouble starts at parties, or when one of our well-meaning co-workers brings in donuts or homemade cookies. This article is not about how to have more willpower during these trouble times. That is for another day. This article is about taking charge of something you have complete control over.
YOUR HOME
There is only one rule to follow. Just one.
RULE #1: You've Got To Clean The Junk Out Of The House:
This is easier said than done, and I usually get an earful from my clients: "I have kids in the house" Or, "I can just learn to have a small portion and still enjoy myself." Or, "my husband has to have his bag/box of ________fill in the blank."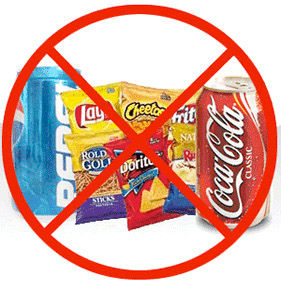 You have a choice. You can keep that junk food around, or you can make some changes and get a different result. The truth is you can have a house free of junk food even with kids in the house. You are in control of your home. Kids will eat what is there, and if you have healthy stuff… they eat healthy stuff. Why would you want your kids eating crap anyway?
Ever since I got rid of all the junk, we have one night a week when we go get a special treat. The kids value that treat way more than the Popsicle they used to eat every day after school. When there is junk in the house, overeating becomes VERY EASY. Almost effortless. You need to make it a little harder on yourself.
Discipline is key, and like I said before, we all have it and we all exhibit a great deal of it, but life is already hard at times and requires courage and discipline every day. Why make it even harder on yourself by having junk food around, all the time, at your fingertips? So that is the WHY, but more importantly is the HOW.
Eating actually makes a very deep groove in your brain. Sometimes it can be almost like a "math equation," and your brain goes on automatic drive to make 1+2=3. If you always have a cup of coffee with a cinnamon roll,  just the scent of coffee will most likely make you pick up a cinnamon roll.
You need to make different equations in your brain. This is the new you, the one who takes different actions to get a new result. This doesn't mean that I'm asking you to get tasteless celery and suffer through. Not even close. That is NOT sustainable, and it is not realistic to choke down stuff you don't like.
This means finding healthy alternatives for your home that you DO LIKE. Maybe it's raspberries or bananas. Maybe it's tomato sprinkled with fresh basil and a little olive oil and lemon. A few things I love:
1. 0%fat Greek yogurt with frozen fruit, cinnamon, and Kashi
2. Costco mango salsa with carrots (instead of chips)
3. Quinoa in my pot roast instead of potatoes
4. Low fat Swiss cheese
5. Broccoli steamed and sprinkled with a little fresh parmesan and fresh lemon.
I know there are things out there that you like, and new things that you will try and end up enjoying. Don't just start eliminating the junk without making new purchases and substitutions. You need to make new associations, too. If you're trying to quit coffee, then "quit" something else you use to eat with it. Make new connections in your brain, a new "1+2=3."
Last thing: Get rid of the junk food NOW. Don't eat it away, throw it away… today.