Create A Healthy Environment To Support Healthy Eating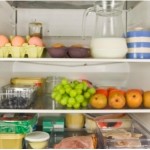 Does your environment determine your behavior? For example, if you love Mint Chocolate Chip Ice Cream, should you keep a half gallon on hand in the freezer while you are trying to live a healthier lifestyle?  Or do you keep a candy bowl of all your favorites on your desk? It's really not a rhetorical question.  Each person will answer differently. For me, I need to keep the house healthy friendly… which means no ice cream or candy.
You are the master of your space, and you can design the areas where you spend most of your time any way you want.  Sometimes the smallest little "design" tweak can make all the difference. So turn that candy bowl into a fruit bowl, and change your environment to support the weight loss goals you have set for yourself.
Some examples of how to create a healthy safe haven at home include:
1. Stock your fridge, freezer and cupboards with fiber-rich foods (read: veggies, whole grains, etc.). You can only eat what is there. If you don't have a bag of cookies in the cupboard, you can't eat cookies.
2. Have bottles of water around the house and in the fridge. I keep a gallon of water in the kitchen so I can make sure I am drinking enough throughout the day.  If I get busy and it is 3 PM and the gallon is 2/3 full, I better start downing the H2o.
3.Display a bowl of fresh fruit in the kitchen. I have a nice wooden bowl that I keep filled with fruit.  It serves as a reminder to eat fruit, and sometimes if I choose something else that isn't so healthy, seeing the fruit may guilt me into making a better choice.
The same idea can be applied to your office. Here are some examples of how to create a healthy safe haven at the office:
1. Pack your lunch! Period.
2. Keep your work space free of food.  If you want to keep some snacky foods in your desk, make sure it is a piece of fruit, or some raw nuts, or even a low calorie, high fiber, high protein "bar".
3. Keep a pair of walking shoes at work and go for a short walk on your breaks. I used to do this when I was office bound. It was nice to get some fresh air, give my feet a break from heels, and get some exercise too.