Free Weight, Machine Weight, Body Weight – Which one is best?
Strength training or weight lifting is key for developing different muscle groups and getting fit. There are plenty of machines, free weights, and body weight exercises that you can use in your fitness routine.
Free weights are beneficial for strengthening the entire body. Exercises on free weights can be done at the gym or in your home. Proper form is the most important thing when using free weights. If you use proper form, you will seriously target the muscle you want to build. If you do not use proper form, you may be targeting a completely different muscle or muscle group. Total control is needed when lifting to prevent joints and muscle injuries.
The extra benefit of free weights is that your entire body is supporting the weight. That is why the muscles actively move during the exercise. As you lift the free weights, weight stabilization also takes place keeping your body in a steady manner. This promotes additional muscle strength.
The major advantage of exercise machines over free weights is safety and easy usage. These machines are equipped with control and guides to direct the resistance paths. Heavier w
eights are more comfortable to lift, increasing your muscle mass.
If you have access to a gym, using a combination of free weights and machine weights is best. You get the best of both worlds. If you want to lift heavy, stick with the machines. If you want a better focus on a certain muscle, and you know your form is perfect, go with the free weights.
A note about body weight exercises: Lifting your own body weight can be very effective. It doesn't require any extras… just you. You can do body weight exercises anywhere and get a great all over body workout, since using body weight exercises also employs many smaller muscle groups for stability. Good form is a must. An example of some great body weight exercises are: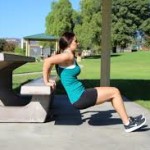 1. Push ups
2. Plank
3. Sit ups / Crunches
4. Squats
5. Lunges
6. Chair dips
7. Arm circles (just like you use to do in fifth grade P.E. class)