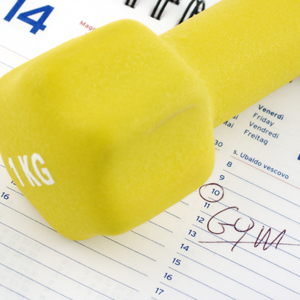 We recently signed our kids up for soccer based on a friend's recommendation. It turned out to be somewhat of a logistical nightmare, as there were a few things that made it less than fun for the kids.
Needless to say, the first practice was horrible. If it were up to Samantha, she would never go back. Luckily, I wasn't going to let her quit, especially not after only one practice. The first day of anything is usually overwhelming in one way or another.
The next practice was a little better, and the next one after that was even better. She finished out the season with some great new skills, and with the idea that she stuck with it. For an eight year old, sticking with something is not at the top of her list of great moments, but I feel like it was a great life lesson, nonetheless.
When I think about it, almost everything we do for the first time is difficult, whether it's the first day at a new job, or the first day starting an exercise routine.  Yep, now you know where I am going with this.
The first time I took a spin class, I thought I was going to pass out. It sucked. But, I knew that I had to give it at least one more try. I couldn't just quit after one time. The next week I took another spin class, and it didn't suck quite as bad. I decided to give it another chance, just to be sure. I have been spinning for over a year now, and I love it… and hate it.
The secret to making exercise easier is to do it — to get used to it by sticking with it. The more you do it, the easier it becomes. Here is another secret. It's supposed to be difficult. If it wasn't difficult, you wouldn't be pushing yourself, and you wouldn't be improving your health and your life.
It can be easy for people to fail at exercise when they don't realize that it gets easier. If you try something, and the first time you decide you don't want to do it anymore because it's too hard, failure is guaranteed.
But is it really too hard? If you try something once, do you even have enough data to say if something is difficult or not? It may be more likely that you're just not used to it, rather than it being too hard.
One of my trainer friends put this on her FB page.
In the first 30 days of training/exercising you will FEEL the difference.
 In the 2nd 30 Days of training/exercising you will be able to SEE the difference.
For 60 days and beyond of training/exercising your coworkers, family & friends will see the difference.
There is no quick fix, but it gets easier if you just stick with it.