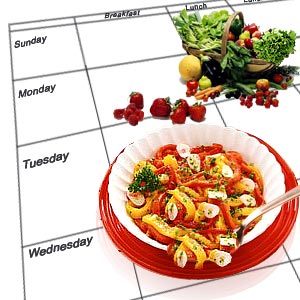 Plan, Plan, Plan.  It is one of the most important things when it comes to losing weight (kind of like location, location, location in real estate).
Having a plan can help you lose weight. When you plan your menu for the entire day (or week), it takes the guesswork out of what to eat. When lunchtime roles around, there is no temptation to go grab a slice of pizza or Big Mac.
What's for dinner? Rather than adding more stress to your day, with a plan you have one less thing to worry about. Tip: Plan dinners that you'll look forward to eating. Just make sure they are healthy.
One critical part to your plan is deciding how many calories you should be eating:
To calculate your calorie goal:
Your current weight x 12 = calories/day needed to maintain your current weight
 To lose 1 pound/week: Cut 500 calories/day.
 To lose 2 pounds/week: Cut 1,000 calories/day.
Caution: Don't go under 1,200 calories a day because  it's hard to get the nutrients you need with that little food.
Write what you bite. I know this sounds time consuming, but I know it works. After years (and years) of poo pooing the whole food journal thing, it was the one thing that really jump started my weight loss after having kids.  Write it down or track it online —what you ate, how much, and the calories it contained. At the end of the day, do the math.
 When you're planning your menus, make sure you are accurately sizing up portions. Studies show that almost everyone (fat, thin, young, old, smart, etc.) underestimates how much they're eating by as much as 20%-40% .
Try these three easy tips to measure and plan your portions — no measuring cups required:
1. Compare things: 3 ounces of meat or protein is about the size of a deck of cards, and a 1/4 cup is the size of a golf ball. http://fitchicktricks.com/what-does-200-calories-look-like/
2. Use your hand: for small-framed women, 1 teaspoon is about the size of the tip of your thumb, 1 tablespoon is the size of your thumb and 1 cup is the size of your fist.
3. Measure once: when you're at home, you're using the same bowls and utensils over and over again. Find out how much they hold. Measure out the amount of soup that your ladle holds. If it's ½ cup then you'll know forever that two scoops equal an appropriate 1 cup serving. And once you know that one serving of cereal reaches only halfway up your bowl, you'll know to stop there each time.
The small amount of time it takes to plan is nothing compared to the big benefits to your weight loss goals. Remember: Plan, plan, plan.