Not Losing Weight? – Six Things to Consider
Not Losing Weight? – Six Things to Consider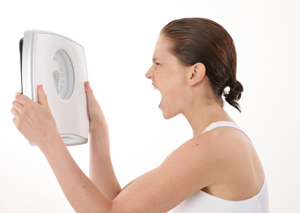 Losing weight can be invigorating… and frustrating, maddening, overwhelming, etc. Wouldn't it be nice if you could choose a diet plan that would allow you to lose 2 pounds a week (or 5 pounds, or insert your number here ____) every week until you reached your goal?
But if you have ever been on a diet, you know that's not how it works. Some weeks your effort reflects the number of pounds lost. Some weeks you work your butt of and lose nothing. Some weeks (all be it rare) you slack a little and lose a pound or two.
Calories IN vs. calories OUT is definitely important, but there are other things that creep into the equation.
Here are 6 things to keep an eye on to make sure your effort reflects your outcome.
Eating too few carbohydrates It's true that we need to be careful when it comes to carbohydrate intake to maximize fat loss, but we still want to make sure we are getting enough carbs. Did you know that fat molecules will not enter the fat burning cycle unless they have a little glucose (carb) molecule to take them there. It's easy to get excited when you reduce your carbs and instantly lose weight, but often this is more of a factor of storing less water than fat loss.
Eating the wrong type of carbohydrates You might be eating the right amount of carbohydrates, but the type of carbs you eat has a big effect on weight loss. There is a buzz around high glycemic index (GI) foods and low GI foods, and the reason is that the type of carbs you eat will directly affect your weight loss. To keep it simple, low GI foods are good, high GI foods are bad.
Good carbohydrates are complex carbohydrates that take the body longer to break down. These carbohydrates typically are high in fiber, which takes the body longer to break down and helps stabilize blood sugar levels. The best sources of good carbohydrates include fresh vegetables, fresh fruit,  grains and beans. All of these foods provide the body with energy, vitamins, fiber, minerals and phytonutrients. 
Bad carbohydrates are foods that are easily digestible and provide the body with limited nutrients and vitamins. Because these foods are so quickly digested, your body will experience a quick spike in energy followed by a crash. Examples of bad carbs include soft drinks, cakes, cookies, chips, white bread, white rice, alcohol.
Eating too little fiber When we are eating for weight loss and we restrict our carb intake, it also changes our intake of fiber. Fiber might be the single most important secret to weight loss, and it is an essential factor for maintaining health. It helps you feel fuller and therefore eat less. It also binds with acids in the body and helps carry out excess fat, and it speeds the transit time of the food we eat, keeping the intestines in good order.
Getting too little sleep When we are constantly sleep deprived the body secretes a hormone called ghrelin. Higher ghrelin levels have been shown to reduce energy, stimulate hunger and food intake, and promote retention of fat. Do you ever notice that some days you feel hungry all day, even though you are eating your regular diet. Think back to your sleep patterns, and you may realize that you haven't gotten as much sleep lately.
Eating too little fat Low fat diets have been really popular, but too little fat may actually make it harder for us to lose weight. Essential fats (aka good fats) help burn fat by helping to transport oxygen, vitamins, nutrients, and hormones to the body's tissues.
Good fats include foods like non-hydrogenated oils (olive, canola, sunflower, peanut, sesame), avocados, olives, raw nuts (almonds, walnuts, macadamia nuts, hazelnuts, pecans, cashews), fatty fish (salmon, tuna, mackerel, herring, trout, sardines), and tofu.
Bad fats include things like commercially-baked pastries, cookies, doughnuts, muffins, cakes, pizza dough, packaged snack foods (crackers, microwave popcorn, chips), margarine or vegetable shortening, any fried foods (French fries, fried chicken, chicken nuggets, breaded fish), and candy bars. 
Drinking too little water Dehydration happens more than you think. If you want to have steady fat loss and high energy, it's necessary to keep your body and liver hydrated every day. Our liver converts the fat soluble toxic chemicals (that we consume, breathe in, and absorb through our skin), into water soluble chemicals that are flushed out by the kidneys through urine. With limited water supply, the kidneys cannot completely flush out metabolic and foreign waste and weight loss can be more  difficult.
So if you start feeling diet frustration, take a minute to evaluate your carbs, fat, fiber, sleep, and water. A small tweak might make all the difference.