Kick Butt Exercises for Great Glutes — Exercise #1
Kick Butt Exercises for Great Glutes — Exercise #1
So I took a poll among my favorite moms, and the number one body part that most of them want to improve is the BUTTOCKS (as my daughter would say in a kind of English accent).
I decided to put together a list of some of the best booty burning exercises to help you get ready for shorts and swim suits.
Five do-at-home exercises for the next five days. Here is #1. Choose a few faves or do them all to get great glutes.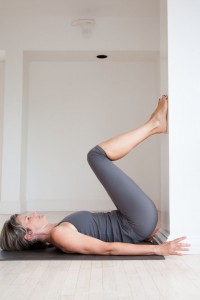 Wall Up
This exercise also tones up the thighs and abs! You can do this while you are watching your favorite TV show.
Lay on your back about a foot away from the wall. Bend your hips and knees to 90 degrees and place your feet flat on the wall. Push into the wall and contract your glutes to lift your bottom off the floor. Return to the start and repeat 10 -20 times.
 For an added challenge, raise one leg straight in the air (so it's not touching the wall), and do the exercise one-legged. Make sure to get both sides!