Kick Butt Exercises for Great Glutes — Exercise #5
Kick Butt Exercises for Great Glutes — Exercise #5
So I took a poll among my favorite moms, and the number one body part that most of them want to improve is the BUTTOCKS (as my daughter would say in a kind of English accent). Moms aren't the only ones either. A poll by Fitness Magazine found that the butt is the one body part that most people don't like about themselves.
I decided to put together a list of some of the best booty burning exercises to help you get ready for shorts and swim suits.
Five do-at-home exercises for five days. Here is #5. Choose a few faves or do them all to get great glutes.
Another one to do in front of the TV.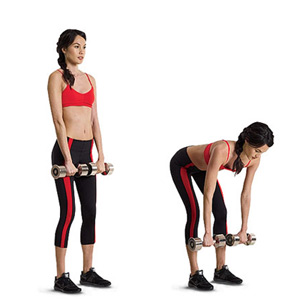 Killer Butt by Dead Lifts
To round out your summer-ready booty, targeting the area of the butt right where it meets the upper thigh is key. And one of the best exercises for this area is a deadlift.
 The deadlift is a compound exercise that targets multiple muscle groups, but focuses on the hamstrings and glutes, particularly in the hard-to-tone "crease" area between the hamstrings and butt.
While holding a barbell, dumbbells, soup cans, milk containers, (or whatever weighted item you have) in front of your thighs, simply tip forward at the hips, keeping your back straight, knees very slightly bent, lowering the weights down in front of your legs. How far you go will largely depend on the weight you're using and the flexibility of your hamstrings.
When you lower the weights to around knee-height, return to the starting position and squeeze that butt as tight as you can.  The key to performing this exercise correctly is to keep your back straight (keep your chin up, and this will help to keep your back straight), initiating the movement by tightening the hamstrings and glutes to pull yourself back to the standing position. Don't "pull" with the back.
As your hamstrings loosen up, you can lower the weights closer and closer to the ground. Just pay attention to the stretch in your hamstrings, and don't overdo it.
Do 10 – 20 reps for 3 sets.