Know Your Gym Lingo
Know Your Gym Lingo
Remember that feeling of the first day of school, the first day at a new job, or showing up to a party not knowing anyone? The first day at the gym can bring up those same kinds of feelings.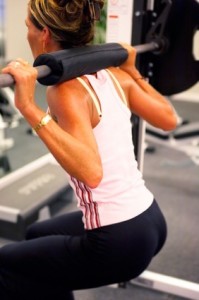 For many new gym goers, the gym can be an intimidating place trying to learn how all the machines work and then there are all these terms that you start hearing. Lifting weights, also called resistance training or strength training, is any type of exercise that requires the body to move against an opposing force. Think about exercises that push, pull, lift, and cause that grunt and groan.
The following are some of the most common terms you might hear when weight training. It may also give you some ideas of how to mix up your routine.
Superset: A superset is when an individual does one lifting movement and then immediately does another movement for a different body part. Example: Push-ups then right into squats
Giant Sets: Giant sets are performed when an individual completes more than two movements in a row without rest. Example: pull downs (back), crunches (stomach), then squat jumps (legs).
Concentric: This is the "positive" movement of the exercise. Example: the curling up when completing a dumbbell curl or the pressing down when completing and tricep pushdown.
Eccentric: This is the "negative" portion of the exercise. Example: straightening the arms after curling them in a bicep curl. Super-secret tip: do this part of the exercise slowly (count to five), and your muscles will tone up much faster.
Isometric: There is no movement during and isometric exercise. Example: a plank or a wall sit.
Drop sets: This is when an individual will take the amount of weight they are lifting and lower it by a percentage in order to complete more reps. Example: Leg curls for 10 reps at 40 pounds, then drop the weight to 30 pounds for 10 more reps.