Friendly and Fun Food for Halloween
Friendly and Fun Food for Halloween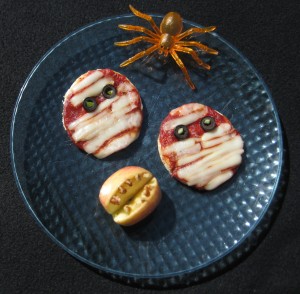 My kids rarely ask for a specific food unless it is donuts, cookies, ice cream… well you get the point. So I was excited when my son asked me to make the mummy pizza that we had last Halloween.
The mummy look isn't only for trick or treating. Disguising a mini pizza as a spooky mummy not only looks cool, but it can be an opportunity to masquerade the meal with extra nutrients.
What You Need:
English muffin or Boboli pizza bread
Favorite pizza sauce or pasta sauce
Pumpkin puree
String cheese or cheese slices
Diced black olives
Green or red peppers
What To Do:
1. Heat the oven to 350º F (these are also easily microwavable). For each mummy, spread a tablespoon of pumpkin puree onto half of an English muffin or pizza bread and spoon on enough pizza sauce to cover the puree.
2. Set olive slices in place for the eyes and add round slices of red or green pepper for pupils.
3. Lay strips of cheese across the muffin or pizza bread for the mummy's wrappings.
4. Bake for about 10 minutes or until the cheese is melted.