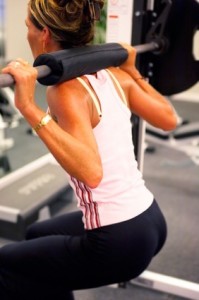 Strength training, a.k.a. resistance training, a.k.a. weight training, pumping iron, bodyweight training, lifting weights… whatever you call it, it's one of the most beneficial forms of exercise for everyone regardless of age, gender or fitness background.
P.s. – it's never too late, and you're not too old to get started.  With that said, there is the right way and the not so right way to weight train, so here are some important principles to follow to ensure maximum benefit while minimizing the chance of injury.
Resistance. You have to use the right resistance to build muscle.  The amount of resistance has to be above what you are accustomed to in everyday life. So put down the soup can size dumbbells and choose something a little heavier. Not too easy, not to hard… but it should be just enough to allow you to finish your desired number of repetitions.
Balance.  Make sure you work your entire body to avoid imbalances in strength and posture and to avoid injury. Ever notice the guy who has an amazing chest, back and arms, only to see little chicken legs that never see the light of resistance?
Rest.  Rest between sets of each exercise for about 30 to 90 seconds.  This will provide your muscles with the proper recovery time prior to your next set.  Old school theory says that you should rest each body part a minimum of 48 hours before you train that same body part again. But the reality is that for maximum benefit, 72 – 96 hours is much better. Think about training each muscle group once a week.
Proper Technique.  This is my fave, and also my biggest pet peeve. Proper technique will ensure you are working the muscles designed for each exercise and help alleviate injuries. It also makes sure you aren't just wasting your time. If you take the time to exercise, do it right to get the biggest bang for your buck.  You also want to breathe properly throughout the lift, exhaling as you lift the weight and inhaling as the weight is lowered.  Seek out the guidance of a certified trainer if you are a beginner or have questions.
Work. Make your muscles do the work. You will activate more muscle fibers and get a much better result if you lift and lower weights with purpose through your range of motion.  If you can't lift a weight without swinging it or using momentum, it's too heavy and you should lower the amount of weight you are attempting to lift. You might look cool lifting all that weight, but you are wasting your time and looking to get injured.
Attention. Pay attention to your body.  Never work through intense pain, and learn the difference between pain and muscle soreness/fatigue.  Muscle fatigue is that feeling when your muscles are tired, but pain makes you want to stop the movement.
These simple principles are a great starting point to your strength training plan. Whatever you want to call it, please make it a part of your exercise program.