Healthy Travel Tips – Eating Right on Vacation
Healthy Travel Tips – Eating Right on Vacation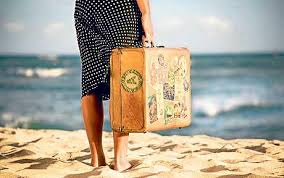 Spring Break is right around the corner – from road trips to long flights, making healthy food choices can be tougher than it seems. But by doing a little bit of prep work and planning, you can easily make healthy choices on even the most exotic vacation.
Fill your suitcase The last thing you want to do when you first arrive is go shopping for healthy snacks. Instead, prepare snack-sized baggies that you can easily throw into your beach bag, backpack, or pocket. Keep all the small baggies together by storing them in a larger plastic storage bag. Some great choices include trail mix with dried fruits and nuts, individual packets of peanut butter crackers, dehydrated (kale) chips, dried coconut slices, and your favorite jerky. Even a can of sardines or tuna can be made into a quick meal in a pinch.
Air travel Make sure to eat a healthy, protein-packed meal right before leaving to cut down on the temptation of airport fast food, or take a light meal with you. Small frozen gel packs are great for keeping snacks cool for a few hours and usually have no trouble getting through security. Look for sets that are sold for diaper bags since they tend to be streamlined and don't take up much space. Choose snacks that are nutrient-dense so you don't need a large quantity to fill you up. Veggie sticks and cheese cubes, avocado slices, fresh coconut slices, and hard-boiled eggs are easy to eat without utensils. Apples and bananas are usually easy to find and make a great snack when paired with a packet of nut butter.
Road trips Investing in a small cooler will greatly reduce your chances of giving in to the drive-through window. Fill it with fresh fruit, veggie sticks, hard-boiled eggs, and healthy sandwiches. When making sandwiches, choose sprouted, or whole-grain bread – or wrap it all up in a lettuce leaf for a grain-free option. Look for deli meats that are free of nitrates and preservatives, add some lettuce and sliced avocado as a healthy fat instead of mayonnaise. Make sure you layer any condiments (pickles, mustard, and tomatoes) between the protein slices so the bread, or lettuce wrap, doesn't get soggy. Homemade oatmeal cookies or granola bars made with a touch of honey and filled with dried fruits and nuts make a great kid-friendly snack on the go. If you get caught hungry at a gas station, choose high-protein snacks such as sunflower seeds, nuts, fruit and nut bars, or a banana.
Restaurants Of course you want to indulge on vacation, but indulging at every meal may make it harder to get back into your healthy routine when you get back home. Choose one meal a day, or every two days, as an indulgence, and skip the breadbasket so you're not tempted to fill up on empty calories before the meal. Google your locations so you know what restaurants are near. Check the menus online before you go, so you know what to expect along with the healthy choices available. You know the drill…choose grilled, broiled, steamed, roasted, baked or poached for your proteins and ask for vegetables to be steamed so they don't end up floating in oil. Try ordering a salad with olive oil and fresh lemon juice as an appetizer and choose an appetizer for a main course, or choose two appetizers (not the fried stuff) for your dinner. It's a great way to try different things without going overboard.
Hotels Hotel breakfasts tend to offer a lot of high-sugar, high-carbohydrate items such as pancakes and processed cereals. Choose high-protein eggs instead and add veggies to your omelet if you can. Try finding a hotel with a fridge or request that the mini bar be emptied before you arrive so that you can use it during your stay. Stock it with perishables such as fresh veggie sticks, berries, organic full-fat yogurt, and cheese.
Oatmeal trick: Pack your own individual oatmeal breakfasts in plastic baggies. Add old-fashioned rolled oats, and whatever fillings you like – raisins, shredded coconut, dried fruit, slivered almonds, and even some whey protein. Pour the mixture into a bowl covered with water or coconut milk the night before, store it in the fridge and your breakfast will be waiting for you in the morning. Enjoy your trip!