The Flex Belt – Friend or Foe?
The Flex Belt – Friend or Foe?
I have never been a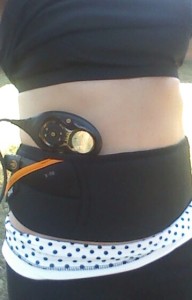 big fan of fitness equipment fads. I go with the tried and true free weights and running through my neighborhood. With that said, when I was contacted by The Flex Belt representative to try out the company's product, how could I resist. I get a free Flex Belt to try, and then I just have to write an honest review.
So, we all have those things that we hold to be true, and two of my biggies (when it comes to fitness) are that 6 pack abs are made in the kitchen more so than the gym. Of course it's important to work out your abdominals to build those muscles, but unless you have a healthy diet and lose some of your abdominal fat, all that ab work will never show itself. Secondly, I don't feel like I have had a great workout unless I am sore the next day. This second one may or may not be scientifically true, but in my mind it's true for me.
So here are the pros and cons –
PRO:
1. It's easy to use once all the pads are in place. Don't get intimidated by the pads… they are a bit sticky. Be sure to read the directions.
2. There are so many intensity levels of muscle contraction, it seems unlikely to get maxed out or outgrow the belt's scope for a strong ab workout. The belt has longevity of usefulness.
3. MY ABS ARE SORE THE NEXT DAY… YAY!
4. I can wear it around the house while playing with the kids, cooking dinner, chores, or whatever.
5. It comes with a convenient carry case.
6. I don't have to take time at the gym to work abs, and it works all abdominal muscles, so there is no need to do three different exercises to get this result. .. which translates to a shorter work out or more time for other muscles groups.
CON:
1. It's a bit pricey.
2. The directions indicate that if you have a belly button ring, you must take it out. This may or may not be an issue for ring wearers.
3. The belt is set up for only one individual to wear… can't be shared with other family members.
4. I haven't had to replace them yet, but additional gel pads must be ordered – (the belt includes the first set)
So, The Flex Belt claims that it will stimulate all your major stomach muscles at the same time providing you with the perfect abdominal contraction – that means your upper abs, the lower abs and even your obliques are going to get worked from The Flex Belt… and it does all the work for you. From what I have experienced this claim holds true. Will it give you a six pack abs? It may, but you won't see that six pack reveal itself unless (or until) you also have a diet that contributes to shedding belly fat. Will I continue to use my Flex Belt… YES!
For additional information on The Flex Belt, check out this link! http://www.theflexbelt.com/?mcp=12389