I have people ask me all the time how to lose weight, get fit, get healthy, etc. You know that I love to help people, especially when it comes to fitness and nutrition.  Here's the thing, though, I have come to realize that most of them aren't really ready.  Maybe they ask me just to be nice, maybe they ask me because they think it is what they should be doing, maybe they are just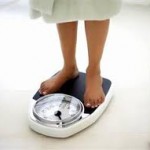 making casual conversation.  Maybe they do really want a personal trainer, So my first question from now on is going to be:
"Are you ready?"
 If someone says "I think so." Then I will give them a second chance and ask again, "Are you ready to really make some changes in your life and get rid of what you don't need, so you can have what's important to you?" If they need to think about it, I will ask them to come back when they've decided. (Okay, so for those of you who know me, I really won't shut them down like that, since I am a people pleaser. But their answer to my question will give me insight as to how to address their questions.) 
One major truth is that it's not possible to make any dramatic changes in your life if you're trying to do so because someone else said you should. The desire and commitment has to come from deep inside of you. No one can make those changes for you. If you truly want to make changes whether it be at home, at work, getting fit, eating better—it's up to you.
 This is great news, really. Especially for all you control freaks (and I am one).  So much of feeling overwhelmed comes from feeling out of control. You are in complete control of making the changes!
 So Make a decision:  It's Up to You to Set the Tone of Your Life
 What if we all took that to heart? What if we all stopped blaming others and took responsibility for ourselves?  How great would that be?
 I often hear excuses for why people feel they haven't lost any weight and feel overwhelmed with a fitness routine.
 I always listen compassionately and then tell them "Let's start with right now." It doesn't matter that they haven't been able to exercise all week because their boss made them work late, or they slipped on their diet because their kids wanted fast food so, they super-sized their meal at McDonalds, let alone going to McDonalds.
 As soon as you take responsibility for your life, you can change. Thinking it's someone else's fault or problem won't allow you to move forward and make changes.
 Be aware of your surroundings and take responsibility for your results.
 There may be very good reasons why you haven't been able to lose those last 10 pounds, and trust me, I have heard every excuse in the book.
 But, those reasons can keep you from doing anything. When you blame—you stay stuck. Decide TODAY that if anything is going to change in your life, it's going to be up to you. You'll feel an incredible sense of freedom and control. When you take responsibility, you can make changes, you can do something, and you WILL see progress.