My No Junk Food Journey – Want to Come Along?
My No Junk Food Journey – Want to Come Along?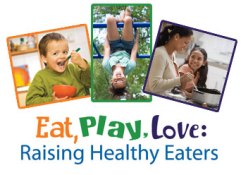 I wrote this post as a participant in the Eat, Play, Love blog carnival hosted by Meals Matter and Dairy Council of California to share ideas on positive and fun ways to teach children healthy eating habits. A list of other registered dietitians and moms who are participating in the carnival will be listed at the bottom of this post or can be found on Meals Matter.
.
If you are reading this on my website, you have probably figured out that I have a thing for fitness and nutrition… okay more of an obsession really.
I also have a shocking secret. I am not proud of this, but it is time for me to come clean. My kids eat Popsicles for breakfast. (I know… GASP) Breakfasts and snacks have become a free for all of low nutrient, high fat, high calorie foods. I still have control over lunches, and they are packed healthy. Dinners are okay too, but I am verging on a short order cook… something I swore I would NEVER DO.
I have been guilty of buying way too many snacky foods, which of course becomes the kid's first choice food.
But, change is a comin! I decided to throw out every snack food that was unhealthy and replace it with healthy choices. Not a single unhealthy snack is left in our house.
I am the boss. I am the gatekeeper of the food.  Theses are my new daily affirmations, as I embark on the 'no crappy food zone' plan.
Being obsessed with my own nutrition, I must practice what I preach.
Kids will eat what's available. That's why I must control the supply lines. Kids can't eat what is not there. A side bonus is that I will not be tempted by the kid's rice crispy treats anymore (I know… another GASP).
If you want to join me on my no junk food journey, here's what we will do:
1. Work fruits and vegetables into the daily routine. Be sure you serve a fruit or vegetable at every meal.
2. Make it easy for kids to choose healthy snacks by keeping fruits and vegetables on hand and ready to eat. Other good snacks that my kids love include low-fat yogurt blended with some low fat milk to make a shake/smoothie, peanut butter and apples, or whole-grain crackers and cheese.
3. Choose whole-grain breads and cereals so kids get more fiber. Don't be fooled by kids' cereal marketing. Read the ingredients.
4. Be sneak by adding chopped broccoli or green peppers to spaghetti sauce, or mix grated zucchini and carrots into casseroles and soups. Pureeing is also a great way to add veggies. Pureed sweet potatoes go un-noticed in Mac-n-Cheese or chili!
5. Limit sugary drinks, such as soda, juice, and fruit-flavored drinks. Serve water and low-fat milk instead. Make the "juice is for play dates only" rule.
6. Don't be a short order cook. Repeat… Don't be a short order cook.
No separate meals.  Keep serving healthy choices until they become familiar and liked.
We can do this.  No Junk Food.
Do you have a shocking secret that you want to share?
Don't stop here! Join the carnival and read other Eat, Play, Love blogs from dietitians and moms offering the best advice on raising healthy eaters. And if you don't get enough today, for more positive, realistic and actionable advice from registered dietitian moms, register for the free, live webinar Eat, Play, Love: Raising Healthy Eaters on Wednesday, May 18.
The Best-Kept Secret for Raising Healthy Eaters, Maryann Jacobsen, MS, RD 
Feeding is Love, Jill Castle, MS, RD, LDN 
5 Quick Ways to Prepare Veggies with Maximum Flavor, Dayle Hayes, MS, RD 
The Art of Dinnertime, Elana Natker, MS, RD
Children Don't Need a Short Order Cook, Christy Slaughter
Cut to the Point – My Foodie Rules, Glenda Gourley
Eat, Play, Love – A Challenge for Families, Alysa Bajenaru, RD
Eat, Play, Love ~ Raising Healthy Eaters, Kia Robertson
Get Kids Cooking, Jessica Fishman Levinson, MS, RD, CDN  
Kid-Friendly Kitchen Gear Gets Them Cooking, Katie Sullivan Morford, MS, RD 
Kids that Can Cook Make Better Food Choices, Glenda Gourley
Making Mealtime Fun, Nicole Guierin, RD 
My Top Ten Tips for Raising Lifelong Healthy Eaters, EA Stewart, RD
My No Junk Food Journey – Want to Come Along?, Kristine Lockwood
My Recipe for Raising Healthy Eaters: Eat Like the French, Bridget Swinney MS, RD, LD
Playing with Dough and the Edible Gift of Thyme, Robin Plotkin, RD, LD
Picky Eaters Will Eat Vegetables, Theresa Grisanti, MA
Putting the Ease in Healthy Family Eating, Connie Evers, MS, RD, LD
Raising a Healthy Eater, Danielle Omar, MS, RD
Raising Healthy Eaters Blog Carnival & Chat Roundup, Ann Dunaway Teh, MS, RD, LD
Soccer Mom Soapbox, Sally Kuzemchak, MS, RD 
Teenagers Can Be Trying But Don't Give Up, Diane Welland MS, RD
What My Kids Taught Me About Eating Mindfully, Michelle May, MD