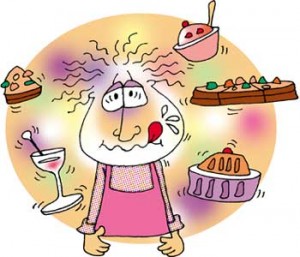 Have you ever decided to eat the whole cake because you thought you blew your diet by eating one piece? People who have negative self – thoughts may eat even more after blowing their diet, as a way to deal with the negative feelings caused by the over-eating. "I'm a loser, I'm fat, I can't believe I just blew my diet". Yep, I am definitely guilty of this.
If negative self-thinking plays a role in causing people to give up on healthy eating, then is it possible to prevent it by reducing that "I blew my diet and I'm fat"  talk?
When we are kinder to ourselves by showing self-compassion, we become less self-critical when we blow our diet, and who doesn't blow their diet once and awhile?
Don't cope with negative feelings about being fat by eating even more. Give yourself a break. Offer yourself some compassion. Self-compassion is caring. Caring about making healthy choices not harmful ones. 
If you want to learn more about this, read the complete article: http://www.greatist.com/happiness/self-compassion-and-splurging/