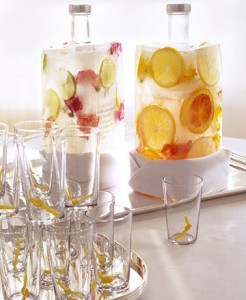 If I have said it once, I have said it a thousand times. Don't drink your calories.  Well, I actually don't mean never ever. If you like to socialize over drinks, but don't want to blow your diet, you should know which cocktails make better friends than others. Beware of margaritas! Sweet and sour mix plus a couple shots of liquor, no matter how delicious, yields a calorie explosion. Avoid cocktails made with dark liquors, sour mixes, cream, and high quantities of liquor.  Clear or light-colored liquors, such as vodka or rum (about 65 calories per ounce), with low to no calorie mixers are the best way to go.
 One of my favorite finds is a drink called the Stoley Doley.  I had one, or two, no; maybe it was three, at the Capital Grille bar.  The bartender was nice enough to share the recipe.  It is kind of complicated, so you may want to take notes.
Ingredients:
Vodka – the good stuff
Fresh pineapple spears
Recipe:
Arrange pineapple spears in a jug, jar, or pitcher
Pour Vodka over pineapple spears. Put in fridge for 2 weeks.
 Okay, maybe not that complicated, but talk about a low cal cocktail.  So in the spirit of welcoming summer vacation, we have planned a vodka tasting party.  Each couple will be bringing their own infused vodka.  We have had ours brewing in the fridge for the past two weeks.  On the menu is also lime/raspberry and cocoa/espresso.  Except I have just gotten word that a taste test of the lime/raspberry went awry, and that vodka is all gone. 
So I am hoping that this is the solution to low cal cocktailing… instead of low cal mixers, no mixers at all.  At the very least it is a great excuse to get together with friends. I will let you know how it all tastes next week.
For more GREAT tips, check out The Greatist guide to healthy drinking.