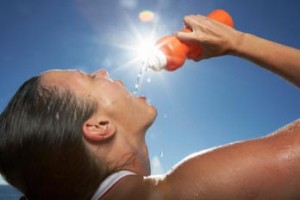 Welcome to summer. Today in Arizona the high was 111. My kids often hear me say stuff like "playgrounds aren't for summertime in Arizona". Our outside activities are relegated to the swimming pool, unless it is before 8 am.
The reason that I mention all this is because I struggled a bit to write this article, as summer activities in Phoenix are always indoors, so we don't think too much about outside exercise and heat related issues.
I decided to enlist the help of Mayo to offer some tips for summertime fun, for those of you who live in more hospitable environments.
Exercising in hot weather puts extra stress on your heart and lungs. Both the exercise itself and the air temperature increase your body temperature. To dissipate heat, more blood circulates through your skin. This leaves less blood for your muscles, which increases your heart rate. If the humidity is high, your body faces added stress because sweat doesn't readily evaporate from your skin — which only pushes your body temperature higher, and your natural cooling systems don't work as efficiently.
Things to keep in mind during hot-weather exercise:
Take it slow. If you're used to exercising indoors or in cooler weather, take it easy at first. As your body adapts to the heat, gradually increase the length and intensity of your workouts.
Drink plenty of fluids. This is kind of a duh, but your body's ability to sweat and cool down depends on adequate rehydration. Drink plenty of water while you're working out — even if you don't feel thirsty.  Heck, drink plenty of water even if you are not working out. It is easy to become dehydrated regardless of activity.
Dress appropriately. Lightweight, loose-fitting clothing promotes sweat evaporation and cooling by letting more air pass over your body. Avoid dark colors, which can absorb the heat. Wear a hat – a light-colored hat can limit your exposure to the sun.
Avoid midday sun. That middle of the day sun can feel like an oven, so exercise in the morning or evening — when it's likely to be cooler outdoors.
Wear sunscreen. A sunburn decreases your body's ability to cool itself.
Have a backup plan. If you're concerned about the heat or humidity, stay indoors. Work out at the gym, walk laps inside the mall or climb stairs inside an air-conditioned building.
During hot-weather exercise, be on the lookout for heat-related illness. Signs and symptoms may include:
Weakness
Headache
Dizziness
Muscle cramps
Nausea or vomiting
Rapid heartbeat
If you suspect a heat-related illness, stop exercising and get out of the heat. Drink water, and wet and fan your skin. If you don't feel better within 60 minutes, contact your doctor.
Regular physical activity is important — but don't let hot-weather workouts put your health at risk.