3 Secrets To Pumping Iron
3 Secrets To Pumping Iron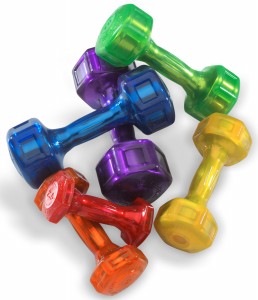 Secrets of weight training
I love weight training. I have been doing it for over 12 years, and I am always learning new ways to maximize my workouts and my results. Just walk into a bookstore, or browse online and you'll find hundreds of books all ready to teach you how to gain the benefits of weight training, but there are a few steps you should adhere to no matter what your goals. These steps will ensure optimal results from you weight training activities.
Step # 1: Make your workouts short. Weight training programs should never last more than one hour. Remember, you're placing stress on the muscles as you lift weights. An hour is the maximum time to exercise without causing stress and possible injuries.
Step # 2: Make your workout intense. During weight training sessions one of your goals should be to challenge your body, so it adapts by building new muscle cells and burning body fat. If you are going to take the time to lift weights, really make it worth your while. I had a football coach tell me that the last rep should look like the first rep.  This little tip helped me to make sure my intensity was at full throttle throughout the entire set.  The last rep won't feel like the first one, as there is a pretty good chance it will be painful (in a good way) and exhausting, but if you keep good form and intensity, it will show in your results.
Step #3: Consistently change your weight training routines. Regardless of whether you are trying to burn fat, improve sports performance, boost your metabolism, get more tone, or become a body builder, change is a must. To reach your goals most effectively and work smarter, you must constantly challenge your body. Your body can adapt very quickly to repetitive routines week after week. Adding more weight, changing the routine and changing the number of repetitions are all excellent ways to keep change in your weight training workouts.You should change your workout routine at least every four weeks, but you can mix it up every week if you prefer.
The new fitness buzz is that weight training is the new cardio.  I don't think it is a replacement for cardio, but the benefits of weight training are endless… for men and women.