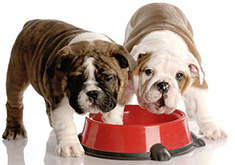 There is a story about wise man who is giving a lesson to a young girl. He says, "There are two dogs in my head. One is very good; he is positive, optimistic and kind. The other one is very bad; he is negative, angry and judgmental. These two dogs are always fighting."
His young student asks him, "So which one wins?"
The elder replies, "Whichever one I feed the most."
Like the wise man of this story, we all experience a similar inner conflict with our health, fitness, and weight. It's like there are two conflicting voices inside our heads. I hear these two voices on a daily basis especially when I am deciding what to eat.
One voice is frustrated (and sometimes hungry) and is on the verge of giving up and or giving in to the temptation to eat something that will sabotage my diet. The other voice, in spite of the frustration, refuses to give up or give in.
The challenge is which voice will you listen to? Will you give in to the whispers inside that say what's the point, what's the use? Or will you stay focused, optimistic and keep going until you find the right solution for you?
Whichever path you choose to follow to get where you want to be, remember the choice between exercising and lounging, between eating pizza and eating broiled chicken, between hope and despair is always up to you. It's a choice you make every minute of every day. You make it by deciding which voice to listen to. You make it by deciding which dog to feed