Maintaining Nutrients In Your Body For Peak Performance
Maintaining Nutrients In Your Body For Peak Performance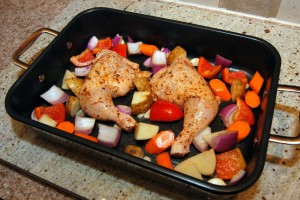 Nutrients are needed as spare parts for the repair of cellular tissues, and to ensure your cells operate correctly. When your nutrient levels are low for a particular one that your body needs, it starts to malfunction. As you can imagine, this leads to a host of issues from feeling sluggish to weight gain to poor health.
There are two important concepts for nourishing your body:
Variety of Food

Nutrient Denseness of Food
Variety of Food
No single food contains all the nutrients the body needs. It's easy to get in a food rut, but if you get in the habit of eating only a few foods, it is virtually guaranteed that you will run low in certain nutrients. So, embrace your inner Andrew Zimmern and mix up your diet, try new foods, and do a winter, spring, summer, and fall rotation with the foods you eat by EATING WHAT IS IN SEASON.
Nutrient-Dense Food
We should try to focus on foods that contribute to our health, by having at least some discipline to not eat foods that undermine it.
Nutrient-empty foods aren't worth eating unless they taste so good to you that your happiness is very positively affected… and even then, unless you are willing to sacrifice good health for the pleasures that these foods bring to the moment, try to save these celebration foods for "rare occasions".
I recently read an article that categorized foods like this:
Celebration Foods

Fuel Foods

Nutrient Dense Foods.
Celebration Foods should not be eaten frequently, but should be reserved for parties and special occasions:
Processed grain products, white flour products (cakes, pastries, and noodles), white-rice, etc.

Sugary foods such as ice cream, candy, soda pop, syrups, etc.

Yep – all the sweet, yummy, good stuff
Fuel Foods are nutritious and important to provide energy for activity and exercise. But here's the thing – if you are completely sedentary, they actually provide more calories for the amount of nutrients provided. So make sure that you are doing some kind of physical activity to get the benefits from Fuel Foods.
Grains (whole grain bread, whole grain rice, etc.)

Fruits
Nutrient Dense Foods should be eaten daily and by everyone:
Vegetables

Raw nuts

Fish

Good fat foods such as Avocados and Olives

Uncooked oil extracts (extra virgin olive oil or extra virgin coconut oil, cold pressed oils for example)

Lean meats

Eggs
Don't underestimate the power of nutrients. Keep your engine running at peak performance by focusing on nutrient dense foods as part of every meal.