Navigating Fast Food Traps – How To Make The Best Choices
Navigating Fast Food Traps – How To Make The Best Choices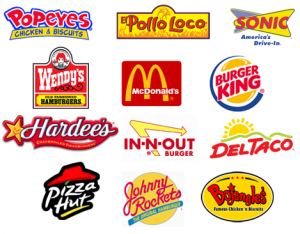 Fast Food is a fact of life for most of us, especially if you have kids. If you are like the rest of us who eat fast food anywhere from one to five times per week, here is a great website that lists nutritional information for many fast food and family type restaurants, and it is free!
http://www.fastfoodnutrition.org/
One of my best tips for fast food (or restaurants) is to know what you are going to order before you step inside the restaurant. The list from http://www.fastfoodnutrition.org will hopefully help you decide on a healthy choice before hand. If you can, make your choice while you have a full stomach and take the time to consider all the nutritional information. When you get to the restaurant, don't even look at the menu board… just order what you have already planned… no matter what.
Also….
Drink water with your meal. Soda is a huge source of hidden calories. One 32-oz regular cola has about 425 calories, so this can quickly make up a big portion of your daily calorie intake. Try adding a little lemon to your water or ordering unsweetened iced tea.
"Undress" your food. When choosing items, be aware of calorie- and fat-packed salad dressings, spreads, cheese, sour cream, etc. For example, ask for a grilled chicken sandwich without the mayonnaise. You can ask for a packet of ketchup or mustard and add it yourself, controlling how much you put on your sandwich. Eat an open face sandwich by removing one of the buns.
Watch portion size. An average fast food meal can run as high as 1000 calories or more, so choose a smaller portion size, skip the fries, and don't supersize anything… EVER. At a typical restaurant, a single serving provides enough for two meals. Plan on taking home half by dividing the meal into two before you even start eating.
Remember the big picture. Think of eating out in the context of your whole diet. If it is a special occasion, or you know you want to order your favorite meal at a nice restaurant, make sure your earlier meals that day are extra healthy. Moderation is always key, but planning ahead can help you relax and enjoy eating out while maintaining good nutrition and diet control.
Some fast food restaurants are working hard to make their food both healthier and tastier. One example is Chipotle, where their motto is "Food with Integrity". Their objective is to serve food that is better tasting, comes from better sources, is better for the environment, better for the animals, better for the farmers, and in turn this produces food that is better for us to eat. Unfortunately their portion sizes are still huge, so be sure to always pay attention to calories and fat content. Chipotle is by far my favorite fast food place. I order the Chicken Bowl with no rice, no beans, but double the chicken, double the corn salsa, double the tomato salsa, and of course NO cheese and NO sour cream. With all the veggies and extra chicken, this bowl lasts for two complete meals!
Fast food happens, just be sure to make it a smart way of eating healthy. It can be done.  Click here for an article where Nutritionists talk about what they eat when dining out.