So many home exercise gadgets, so little time.  Not everyone wants to spend their precious time exercising at a gym, and luckily there are a lot of home options from DVDs to Wii to body weight training to resistance tubing.
These little tubes are simple, small, lightweight, affordable, and you can buy them just about anywhere. So how can such a simple, lightweight object actually help you build muscle?
These tubes are essentially hollow plastic ropes, (or long, flexible plastic tubes). They are made of very durable plastic and rubber that has just enough stretch and bend to serve as a flexible rope, yet they are tough enough that they "resist"  the force exerted when you pull on one or both handle of the tubing.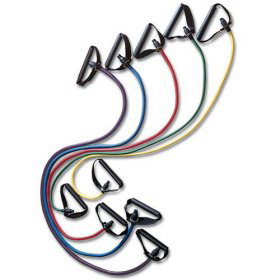 Resistance tubes are made with varying degrees of strength and tough-ness. The more they resist, the harder they are to pull on, and therefore, the harder your muscles have to work to do so. Because of this, resistance tubing comes in varying levels of resistance, and most are color coded to the  different resistance levels.  They are measured in pounds, as in the weight equivalent of the resistance they provide. (For example, a five pound resistance tube doesn't weigh five pounds, but it is designed to be as difficult to pull on as would be a tube with a five pound weight attached.)
People use resistance tubes for many different reasons. They can help tone muscle, add muscle bulk, and burn fat. They are also good if you want to mix up your routine and do something a little different, and because they are lightweight and small, they can easily be used at home, or even in the office for a discreet workout during lunch or an afternoon break.
Resistance tubes are generally affordable; I bought a complete set on Amazon.com for around $30. You can buy them individually or as a set, and they will come with an instruction manual and usually a DVD to show you how to use proper form to get results.