Why Do My Muscles Shake When I Exercise?
Why Do My Muscles Shake When I Exercise?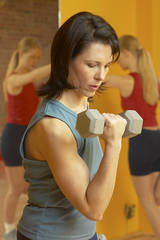 Muscles may make the body move, but it's the connective tissue (the layer of fluid filled tissue between the skin and the muscles) that receives the signal from the brain to cause the movement. So does the brain really want the muscle to shake, or is part of the message lost in translation?
The shaking that occurs toward the end of an exercise or workout can be a signal from the brain that the muscle is exhausted. It has been worked hard enough, and it may be time to stop. The shaking can happen more often when the muscle is worked harder than normal or doing a new exercise .
It is also possible that the message from the brain gets a little garbled on its way through the connective tissue, due to other factors like level of hydration and electrolyte balance, and the timing of the muscle movement can get a little out of whack.
When the fibers in the muscle get the initial call to action, they contract to cause the correct movement (also called muscle firing).   But not all fibers are created equal—there are fast twitch and slow twitch muscles .  Like the names suggest, slow twitch muscles have a slow reaction time to contract, and are generally used for activities such as walking, maintaining posture, and most daily activities, and therefore they don't tire out too quickly.  Whereas fast twitch muscles have a quick contraction time, and are used for short bursts of activity like sprinting, jumping, and lifting weights. They can tire out much faster.
Muscle fibers don't all fire, or contract at the same time. Some fibers are resting while others work to make the muscle move, and then they trade off. As the muscle is challenged more and more, this changeover can get a little ragged, and there is not enough contracting going on to keep the muscle steady and moving smoothly. It begins to shake.  When the shaking begins, the muscle may be close to exhaustion so stopping is inevitable.  But recognize that the muscle has been pushed to its limits, and it might be time to back off.
No matter how hard the workout, be sure to hydrate. If the connective tissue, which is like bubble wrap and fiber optics all rolled into one, gets dehydrated, the message for the muscle to fire doesn't get delivered, and the firing sequence can get confused, causing the muscle to shake.  To help counteract shaking due to dehydration, be sure and restore fluids while working out.