October – Think Cranberries!
October – Think Cranberries!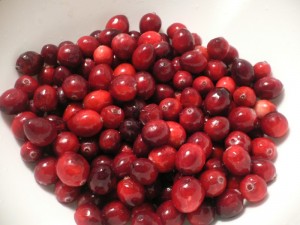 Since I am on vacation this week, I thought I would do something a little different for my posts, and provide some October facts, Not only is October my birthday month and famous for Halloween, but it also holds the title for Pasta Month, Popcorn Month ,and Cranberry Month.
Did you know that cranberries grow on vines in boggy areas? Cranberries were first cultivated in Massachusetts around 1815 and are only one of three major native North American fruits.
Most of the U.S. cranberry crop is grown in only five states: Massachusetts, Wisconsin, New Jersey, Oregon, and Washington. Each year, more than 110,000 metric tons of cranberries are produced in the United States.
More than one-third of the cranberries grown in the United States are made into juice. Fresh whole berries may be purchased, but are often expensive because they have to be hand-picked to avoid the damage caused by machine-picking.
Cranberries may help prevent urinary tract infections. They also contain powerful antioxidants that may reduce the risk of heart disease and cancer.
Selection
Good, ripe cranberries will bounce, which is why they are nicknamed 'bounce berries.' They should be shiny and plump and range in color from bright light red to dark red. Cranberries do not ripen after harvest.
Storage
Store fresh cranberries in a tightly-sealed plastic bag in the refrigerator. As with all berries, if one starts getting soft and decaying, the others will quickly soften and decay also. Be sure to sort out the soft ones if you plan to store them for more than a few days. Fresh cranberries may last up to 2 months in the refrigerator. Cooked cranberries can last up to a month in a covered container in the refrigerator. Washed cranberries may be frozen for up to 1 year in airtight bags.
Preparation
Cranberries are often too tart to be eaten raw. Most cranberries need be cooked before they are eaten. No matter what preparation method you choose, cook cranberries only until they pop because overcooking gives them a bitter taste.
Since cranberries are almost 90% water, do not thaw frozen cranberries before cooking them. Thawing will cause the fruit to breakdown, resulting in soft cranberries.
Cranberries may be baked with a sweetener to make a topping or sauce, or they can be added to baked goods, such as muffins. They are also good chopped with oranges to make a relish.
Check out this Cranberry Salsa recipe and more cranberry recipes from US cranberries.
Happy Cranberry Month!