A Beginners Guide To Exercise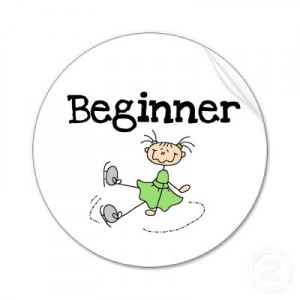 Remember that feeling of your first day of school, your first day at a new job, or showing up to a party not knowing anyone? Well, beginning a new exercise routine can feel similar.  Whether you are going to the gym for the first time, taking an exercise class, doing Wii in your family room or even just walking around the neighborhood, it can feel a little intimidating.
 
Not to worry! Here is a guide for you newbie exercisers or those of you who are trying something different. Whether you are looking to increase endurance, lose some weight, build muscle, or just get healthy, it all starts with a goal and a plan.
Getting Healthy: Aerobics vs. Anaerobic
 Aerobic training, or cardio, is any type of exercise that occurs while the body is continually using oxygen. Think running, biking, walking, and at the gym this translates to the treadmill, elliptical, stationary bike, or aerobics class. These are the exercises that make you huff and puff and really get your heart pumping.
Anaerobic training is any type of exercise that requires a rapid burst of energy. With anaerobic exercise, the body creates energy without oxygen, and no, this doesn't mean we stop breathing. This is because the burst of activity is short and sweet (okay, sometimes not so sweet), and the oxygen from the lungs doesn't have time to reach the muscles. Think about exercises that cause that grunt and groan where the burst of energy lasts less than 60 seconds, like weight lifting, sprinting, jumping or any rapid burst of activity
The best recipe for increasing endurance and improving general health is a dash of aerobic training and a pinch of anaerobic exercises.

Building Strength and Toning Muscles: Resistance Training
Tapping into that layer upon layer of dormant muscle takes a different kind of approach. The most powerful muscle fibers are also those that grow the most. The best way to stimulate growth is by lifting weights. Lifting weights, also called resistance training, equals bigger muscles. Look around the gym. There are usually not any buffbarbies or Arnolds in a Zumba class. They are all pumping the iron.
The three most important words to remember for muscle building are resistance, resistance, resistance.
Shedding The Plump: The Perfect Mix
The best exercises for losing weight will contain a cardio aspect and a toning aspect. Things like rowing, aerobics class, spinning class or stationary bike, and the elliptical.  Walk/running in the neighborhood or run/sprinting is a great alternative too. These exercises work the muscles and the heart, a duo that makes it easier to leave those pounds behind. Throw in a few weight lifting exercises, and you have a well-rounded routine.
Starting that journey toward health, fitness, and well-being can be scary, but there is something for everyone, and it just takes a little time to figure out what works best for your time schedule and your goals. The best part is that just like going to a new school or starting a new job, you feel at ease before you know it and friends and fun ensue. So get going.