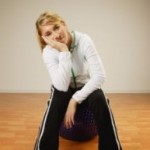 The last two weeks I feel like I have fallen off the "exercise wagon". Even my fool proof tactic of putting the alarm clock in the bathroom, so I have to physically get up to turn it off, has not been working. In all the grogginess, I can come up with some pretty good excuses why I need to go back to bed and not exercise. It makes so much sense at 4:00 AM, but after two more hours of sleep and no exercise, my day always starts off way more chaotic.
I realize that I am bored, no not boring (well maybe just a little). I am bored with my workout routine, and who wants to get up early to go be bored?
It is common advice among fitness professionals to change up your workout to keep your muscles from adapting to the exercise and becoming, well, bored. Okay, so that is not the complete medical reason, but if you've maintained the same routine for too long, you may have reached a plateau that no longer benefits your body as much.
A bored mind and bored muscles need a change. Simple, small changes in your normal exercise routine may reunite your feet and the treadmill once again. When it's time to change, you've got to rearrange / who you are into what you're gonna be. / Sha na na na, na na na na na, sha na na na
There are a few quick fixes for exercise boredom.
My favorite is a good change of scenery. If the thought of trudging through another elliptical session makes you cringe, try doing something outside. I have traded in a stationary cardio machine workout for running on the canal.  There is a window of opportunity to exercise outside, depending on what part of the earth you live, so take advantage of nice weather and get out.
Change of scenery can also include a change of personnel. They are all very nice people, I am sure, but I see the same faces at the gym every single day. We have the same conversations (read: idle chit chat), and it can be a little boring. A new friendly face can add some extra motivation, so it may be time to enlist a friend. Working out with someone who you can push or who pushes you can add a new dimension to your workout, and you won't skip the workout when you know someone else is waiting for you.
If one new face is good, a group of new faces might be better. There is an exercise class for everyone these days, at every level of fitness. Even if the thought of walking into a room full of strangers and getting your groove on sounds a little daunting, try it. Exercise classes are very motivating. There is something about having others around you who are experiencing the same kind of torture, I mean energy, that can keep you going, and keep you working at a more intense level. Friendships are sure to develop too.
The last trick is to set a goal, like running a 5K or training for a tournament. When there is an end event to work toward, it can be easier to be motivated. No one wants to be unprepared for an event.
Boredom happens to everyone. Recognize it, and then shake things up to get past it. There is no right way to do it either. Mix it up every week or every month, whatever you need to do to keep on keepin on.