Keepin It Simple – 4 Easy Ways to Stay on Track in 2015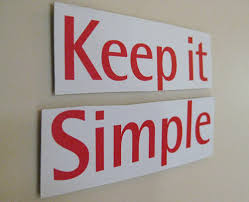 Happy New Year! and Happy New Year Resolutions! What will it be this year? Losing weight, gaining health, getting fit, building muscle, exercise more, eat less. Whatever your goals, one of the best strategies for success is  to Keep It Simple.
Here are my four favorite tips for any health and fitness related goals –
1.  Don't Stress Out!  Stressing out about "how bad" you ate over the last 4 days, or how little you exercised is NOT going to help you lose the weight.  Nope, in fact, stress can make you hold onto more fat and pounds.  So stop it!  Move forward and don't look back at what you did or didn't do last week or weekend.
2.  Exercise with intensity!  Workout hard!  It doesn't have to be long, it just needs to be intense.  And who wants to spend hours exercising anyway? I was so busy with kids this week, I only got 10-20 minute at the gym each day. I made sure my intensity was maxed out, and I feel like I got a good, all be it short, workout.
3.  Drink water like it's your job!  Yes, down that water to flush out what you are retaining from any over-indulgent eating.  Salt, alcohol, and excess sugar can lead to a lot of bloat, so drink your water to flush it out! Who cares if you go to the bathroom 12 times a day?
4.  Just eat sensibly.  Eat your lean proteins, high fiber foods, fruits, veggies, and healthy fats.  It won't take many days to see the changes.