The Granola Bar – Friend or Foe?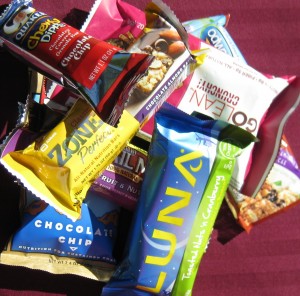 Today is National Granola Bar Day, but while ingredients like caramel, chocolate, and marshmallows may be must haves in candy, these sugary, high fat ingredients have found a new place to hang out. It's time to take a closer look at the granola bar label.
Granola bars have become an on-the-go meal option for busy people, athletes, and outdoor lovers. The word granola may conjure up thoughts of healthy oats, grains, and nuts all nicely molded into an easy to eat bar, but many granola bars are glorified high-calorie cookies.
In the quest for a quick, healthy, satisfying snack, a granola bar may be at the top of the list, but snackers beware. The seemingly innocent bars may have a pretty shiny wrapper bragging about being an excellent source of this or that, but what lies beneath may be an over-processed nutritional mess.
Quaker Oats and General Mills lead the way as the most popular brands of granola bars, and while they may be the kings of the supermarket isle, they rank low in the hierarchy of good nutrition.  Averaging  25 ingredients, 12 grams of sugar, and many even coated in chocolate, these babies can be the equivalent of a eating a candy bar.
Similar to candy bars or cookies, many of the bars have high fructose corn syrup which is linked to weight gain, and insulin resistance, hydrogenated oils ,known to raise bad cholesterol ,  and monosodium glutamate (MSG)  which has been shown in lab tests to affect the regulation of hypothalamic appetite suppression (read: it makes you feel hungry again), which links it to obesity and type 2 diabetes .
It's like the Bermuda triangle of bad nutrition, and not only are they a mouthful to pronounce, but also a mouthful of ingredients that offer no nutritional benefit and may be hazardous to health.    
The number of granola bars on the market   has exploded over the past few years, and with the focus shifting to healthier ingredients it's possible to choose a healthy option. But reading the nutritional information is key to making the best choices, and the more recognizable the ingredients the better.
Many granola bars are fortified with vitamins and minerals, and while fortification is not a replacement for eating a well-balanced diet [6] it can help to make up for nutrients that may be lacking .  
Look for bars that are high in fiber (at least 5 grams), as it slows down the time it takes to empty the stomach (read: it keeps you feeling full longer), and it can reduce bad cholesterol . Try for at least 14 grams per day (depending on age and caloric intake).
There is a reason why some granola bars taste as sweet as a cookie, so checking for sugar and fat is the next step in making a healthy choice. Look for bars that have around  25% of the calories from sugar and 3 grams  of fat or less.
Don't forget to check the serving size, which influences the number of calories and all the nutrient amounts listed on the label. When the serving size says two, it doubles all the numbers, but chances are it won't keep hunger at bay twice as long.
While many granola bars are nutritional land mines, choosing a simple granola bar packed with nutrients and fiber will be more satisfying than a bar loaded with fat, sugar, and a bunch of ingredients from science experiment gone awry.