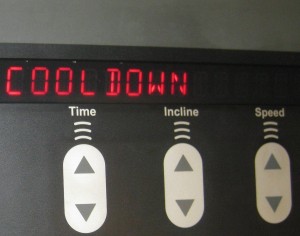 When cardio is done and the shower or couch is calling, sometimes the thought of spending any extra time to cool down ranks right up there with organizing the junk drawer. Is it really that important to cool down after cardio?
Pass On Passing Out
The purpose of the cool down is to redirect the blood flow and drop the body temperature back to normal before rushing off to meet the challenges of the day.  It also settles down the heart beat quicker than without a cool down to feel better faster. 
During cardio the blood is pumping vigorously through the muscles as they contract, and more blood ends up going to the extremities. When the heart is pumping fast, and there is a sudden stop, there's a chance that the blood will start to pool in the legs and feet. Can we say head rush! This can lead to a drop in blood pressure, which may cause dizziness, nausea, and even fainting.
Cooling down allows the muscles to contract at a steady pace, which keeps the blood flowing back up to the heart instead of hanging out in the extremities, alleviating the chance of passing out in front of that hottie on the next machine over.  
Time To Chill
Cooling down is the easiest part of a cardio workout, so enjoy it. Ease out of the workout just like easing into it during a warm-up —taking it slow for five to ten minutes (or when breathing and heart rate return to normal), depending on the intensity of the activity.  Not only will cooling down get the body back to feelin groovy, but it punctuates a good workout kind of like a victory (slow) dance.
Mayo – Target Heart Rate Calculator Knowledge is power. Know your number.
Sweet Dreams – COOLDOWN Routine Try these sweet moves for a quick cool down.