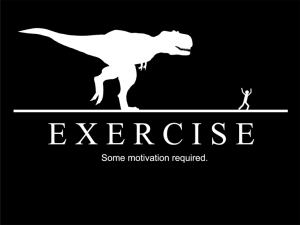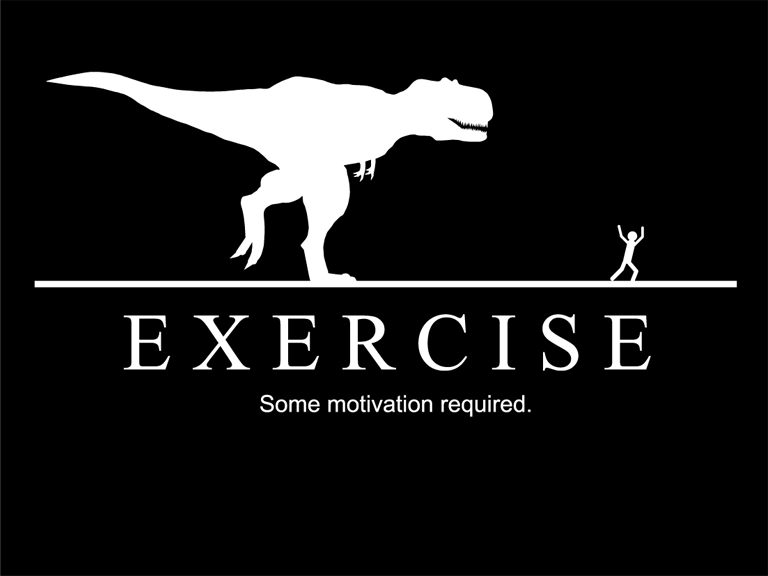 How many articles do we need to read to get motivated? For me, I could read a motivational article every day and not be bored. There are a million ways to motivate yourself to exercise, or do anything for that matter, but here is a list of a few of my favorites.
Think about how you feel after a workout. I always feel great after a good workout. It's like a high, all be it an exhausted one at times. I let that motivate me the next time by remembering the sense of accomplishment I feel after.
Think about reaching a goal. Set a goal for weight, or your waist measurement, or a number of days to work out, or a number of miles to run this week. Setting and tracking a goal helps motivate you to complete that goal. Just be sure to make it easily achievable.
Think about others' success stories. I enjoy reading blogs about people who are into running, or losing weight. It can show the ups and downs they go through, and you can learn from their experiences. I find the success stories of others incredibly inspirational. If a fitness website has success stories, I'll almost always read them. Maybe I should add success stories to mine.
Think about an upcoming event. A trip to the beach, or a reunion. We are going to Vegas next in a few weeks. Nuff said.
Think of it as "me time". I mean this in two kinds of ways. While many people make time to take care of others (kids, spouse, other family, co-workers, boss), they don't often make time to take care of themselves. So on the one hand, use this me time to make yourself a priority, and on the other hand, think of it as a quick "escape" from the stress of kids and a time for contemplation.
Think about how you're going to look. Imagine a slimmer, fitter you, and let that visualization drive you.
Motivation can be different for everyone. It really doesn't matter how you get motivated and stay motivated, as long as you do it for yourself.