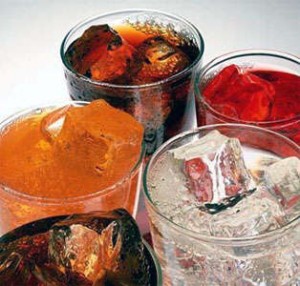 Drinking soda is the same as drinking fat. Sounds disgusting, but sugar is the new fat, and many of those soft drinks are literally like downing a can of fat. You hear it all the time now-a-days: Sugar makes you fat!
One can of soda contains between 150-300 calories, and that's empty sugar calories that get stored in your body as fat! Even healthy sounding fruit drinks, like orange juice, apple juice, etc. are loaded with sugar calories.
Water is the best choice.
I know it's hard to go cold turkey, so start cutting down on your daily intake of sugary drinks by alternating. Either alternate water, sugar drink, water, sugar drink each day, or try drinking water and sugary drinks on alternate days all together. That can cut your sugar intake in half.
And for the guys out there who love their soda, there's new research that shows in addition to promoting fat storage, sugar adversely affects your manlyhood.  Sugar reduces testosterone levels. Testosterone is the (male) hormone that promotes muscle growth (and fat loss), gives men their facial and body hair, and keeps that sex life crackling! So, a reduction of testosterone means that you could potentially have less muscle and a not so sizzling sex life.
Is sugar really worth the side effects?  I'm not saying live without sugar, but many people don't think that beverages (especially juice and soda) can make them fat or unhealthy. So keeping your sugary drinks in check can make a huge difference.  And if you are looking to get more fruit in your diet, skip the juice and eat an orange!
Juice is not a great choice for kids either. Don't let your kids drink too much.