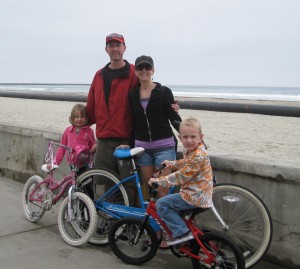 I read an interesting statement the other day. THE BODY ADAPTS DOWN. This makes sense when you think about how smart our bodies are.  They can adapt to the most strenuous situations and challenges, so the opposite must be true, too.
If we are physically inactive, muscles become smaller, bones become thinner, hormone production decreases, cellular conversion of energy gets lazy — nature chooses disintegration.
 We are looking at buying a new car, so I turn to the car analogy. Even the most expensive, luxury car won't run after being left in a garage for too long without use. The batteries will go dead, the tires will go flat. Similarly, a person whose heart, lungs and muscles have gone flat isn't going to be able to do much.
To avoid this dead battery syndrome, keep yourself active by keeping your body engaged in life.
I'm not talking about extreme exercise, or spending hours at the gym every day, but regular activities that promote deep breathing, sweating, and keeping muscles toned. Walking (especially uphill), swimming, bicycling, resistance training, even just deep breathing are all good activities. How about playing/running with the kids, sweeping the pool (twice maybe), or mopping the floor for that matter, doing some sit-ups or push-ups while you watch your favorite show, get creative, but get moving. Here are a few more suggestions to start you off.
Push-ups – Okay, probably not the most favorite exercise for many people, but there are different ways to do push-ups that don't make them so hard. You don't need to pretend you're "Rocky", and do them with one hand; just do what works for you. Do them on your knees, instead of keeping your legs straight. Or, do them standing up against a wall. You will be building up arm strength and working out muscles in your chest area.
Jumping Jacks – Does this bring back memories of third grade P.E.? These are always fun, as they bring back memories of being a kid! Well, surprise – they are also great cardio exercises, and good for warming up, too.
Leg Lifts – Leg lifts are great for building up strength and muscles in your legs. Just like with push-ups, there are a few variations. If you find it hard to do the exercises with your legs straight, try bending them slightly.
Dancing – Dancing is a wonderful exercise, which is great for your heart. Not only that, but it can lift your spirits as well, especially if you do some silly and crazy moves with the kids. Crank up the tunes and get moving.
Jogging In Place – Jogging is a great exercise for your heart. You can jog in place at home while watching TV or listening to music. The only equipment you will require is a good pair of shoes, to eliminate any stress to your legs. Mix it up with some high knees.
Squats – Squats are the "go to" exercise for your legs and buttocks. To get the technique down, you can even try these by sitting and standing up again from a regular chair.
The body is a smart cookie, so use this to your advantage by challenging your body and keep it moving to ensure that your body adapts up instead of down.