Healthy Snacks for Picky Eaters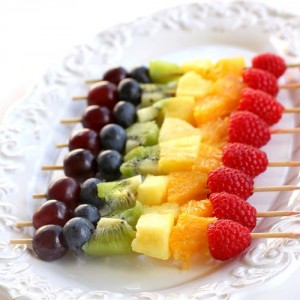 The last few months I have noticed a downhill spiral of eating habits in our house. Breakfasts and snacks became a free for all of low nutrient, high fat, high calorie foods. (Lunches are packed healthy, and dinners have become the only really healthy meal that the kids eat at home) I am guilty of buying too many snacky foods, which quickly has become the kid's first choice. Now that our summer routine has set in, the snacks have become even more out of control.
Last week, I decided to throw out every snack food that was unhealthy and replace with healthy choices. No more otter pops, no more chocolate chip bars, no more Doritos, no more Skittles… But, I did tell the kids that they can have one day or two days a week where they can choose a treat.
So far, so good. The kids have not been complaining (okay, as much as I thought they would) about their snacks and food options. I am kind of surprised, as I thought for sure I would hear a lot of whining about nothing "good to eat". The best part is that the kids are chowing on all the healthy stuff, and while they would never admit it, they like it.
Kids, especially younger ones, will eat mostly what's available at home. That's why it's important to control the supply lines — the foods that you serve for meals and have on hand for snacks. Kids can't eat what's not there. Double bonus — you will not be tempted by your kid's snacks.
I have super picky eaters, so here are some basic tips for healthy snacking that work for me. They are great for kids but also for parents:
1. Fruits and vegetables can be the first go-to snack choice. Make them a part of the daily routine, and aim to serve a fruit or vegetables at every meal. Make it easy for kids by keeping fruits and vegetables on hand and ready to eat. A fruit kabob is always way more fun than just eating fruit out of a bowl.
2. Other good snacks that my kids love include low-fat yogurt blended with fruit and some low fat milk to make a shake/smoothie,
3. Peanut butter and apples are a big hit at our house, along with whole-grain crackers and cheese, and even mini whole grain bagels and cream cheese.
3. Choose whole-grain cereals so kids get more fiber. Don't be fooled by kids' cereal marketing. Read the ingredients. We usually have Kashi or Kind cereal in the house. My kids don't drink milk, so a bowl of dry cereal is a quick snack for us.
4. Chips and salsa. Yes, I got rid of the Doritos, but there are better choices of chips on the market like baked chips. My kids love salsa, so this is actually my attempt to help them expand their taste buds with something a little more 'exotic' like salsa. Also using carrots, celery, cucumber slices or other veggie faves for salsa dipping is strongly recommended.
5. Applesauce is always a winner. My kids love the squeezy applesauce, and even though it's a bit more expensive, I always stock up when it's on sale, since I know that is something they always seem to eat.