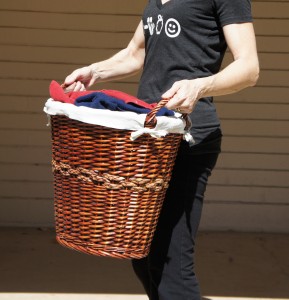 The body burns calories 24/7, even while asleep, so how do every day activities stack up against traditional exercise when it comes to burning calories?
We all burn calories during our daily routines, and there's even a name for it — non-exercise activity thermogenesis (NEAT). It's the energy we use for everything (not including sleeping, eating, or sports-like exercise) from walking up stairs to texting.
Everyday activities might seem mundane, but they can be an opportunity to burn some extra calories — no gym required.
But can these NEAT activities really count as exercise? Don't give up the gym membership yet; for most people, daily activities such as shopping or housework don't get the body working hard enough to get the heart rate up, or engage the muscles enough to count toward the CDC exercise guidelines.  However, it doesn't mean it's not a good way to sneak in some easy calorie burning. Every little bit help.
There are many opportunities each day to boost the calorie burn, so turn off the auto pilot and get in the habit of doing daily activities with more speed, energy, and intensity.
Stride Right — whether it's shopping for groceries at the market or a new pair of shoes at the mall, shopping means walking, and walking burns calories. Walking for 30 minutes can burn over 120 calories, and by picking up the pace the burn can be over 150 calories. Park as far away from the entrance as possible to add some distance to the walk, and just say no to elevators and escalators. Take the stairs to burn an extra five calories per minute.
Do the Vacuum while vacuuming — the exercise is called the vacuum, and it's an easy addition to any vacuuming (or sweeping) routine.  Take in a big breath and fill the lungs with air. While breathing out, draw the belly button in toward the spine.  The dust bunnies are gone and the core muscles get a workout all at the same time. And adding some vigor to the vacuuming will not only get it done quicker, but it will burn a few extra calories too.
Bottoms up — kitchen activities, like cooking and doing the dishes, may only  burn around 75 calories, but add in some gluteus Maximus isometrics (read: squeezing the butt), while chopping those veggies or washing posts and pans, and the backside gets a workout too.
Sitting on an (isometric) goldmine — Sitting in a class, a meeting, or at a desk may only burn around 49 calories, but it doesn't mean those muscles aren't able to do some too. Work the shoulders by crunching them toward the ears. Add in some butt squeezes and vacuum abs, and let the muscle toning begin.
Wax on, wax off — washing the car can burn 135 calories in 30 minutes, but add in a few sets of calf raises to reach the top of the car, along with a few sets of squats to wash the tires, and the legs get a workout, too. Bonus: Saving some cash by ditching an expensive carwash.