Kids On The Move—Getting Kids To Exercise And Have Fun Along The Way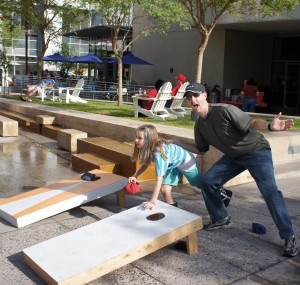 It can seem like a daunting task to get kids to exercise, but it can be fun and enjoyable when everyone joins in for a good dose of playtime.
When thinking about exercise, most adults see images like the gym, a treadmill, or a weight rack.  But for kids, when they are playing or being physically active, it can count as exercise.  It sounds too simple, almost sneaky even, but running, jumping, climbing trees, riding bikes, even building a snowman can improve a child's health and fitness.
Exercise isn't just important for adults, but kids need regular exercise too, and there is no age discrimination when it comes to the benefits of exercise, which sets the foundation for a lifetime of fitness and good mental and physical health. Kids who are active will have stronger muscles and bones, are less likely to become overweight, decrease the risk of developing health conditions like type 2 diabetes, and can even sleep better and handle mental and emotional challenges better. No need to go into the details with the kids, though, because they just wanna have fun.
Kids can have an aversion to things that their parents say are good for them, like eating Brussels sprouts or brushing teeth, and exercise can fall into the same category if parents don't approach it in a fun and encouraging way. Last weekend I watched as a dad stood behind the treadmill looming over his kids as his pre-teen son and daughter trudged through a workout. Yea, good luck keeping those kids motivated to exercise.
Playtime can mean exercise time, and kids can improve endurance by something as simple as running around and playing tag, or they can increase muscle strength by something as fun as crossing the monkey bars. And by helping kids participate (and even joining the fun), in age-appropriate activities, whether tag football or a serious game of duck-duck-goose, parents can get children coming back for more. The family that exercises together stays happy and healthy together.