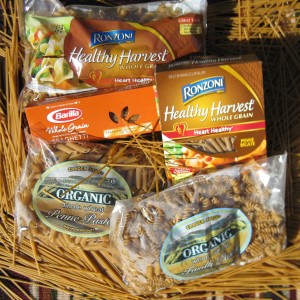 The next October fact is about pasta. October is also Pasta Month. We eat a lot of pasta, and I only buy whole wheat or whole grain varieties to sneak some extra nutrients and fiber into our meal. Todd is not a huge fan of whole grain noodles, and the kids don't know any better, but since I am the pasta boss, we are sticking with whole grains!
In response to dietary guidance urging Americans to include more whole grains in their diets, manufacturers have introduced nutritionally enhanced pasta varieties such as whole wheat, whole grain and pasta fortified with omega-3 fatty acids and additional fiber. Some varieties of whole grain pasta can provide up to 25% of daily fiber requirements in every one cup portion. There are now more options than ever for consumers to enjoy healthy and economical meals the whole family will love. Enjoy these pasta recipes.
I recently wrote an article for The Greatist on the benefits of choosing whole wheat pasta. Here are some of the highlights.
Whole wheat doesn't contain a single magical nutrient that fights disease and improves health, but it's the entire package that's important. Eating at least three one-ounce equivalents (1/2 cup of whole wheat pasta counts) of whole grains per day can reduce the risk of several chronic health conditions including cardiovascular disease, type II diabetes, cancer, and digestive issues .
The main difference between white and whole wheat pastas lies in the processing.  Whole wheat contains 3 parts of the grain— the bran (the outer layer and protector of the grain), the germ (the actual seed embryo that sprouts into a new plant), and the endosperm (the largest part of the grain providing the food source and energy for the plant).  During the refining process, the nutrient-rich outer bran shell and inner germ layer are removed from the grain, as the wheat is heated until they fall of, leaving white pasta with just the starchy endosperm.
The bran and germ are home to the vitamins, minerals, appetite-squashing f fiber, protein, and healthy fats, so even though the stripped down white pasta has a longer shelf-life, and therefore  may be cheaper , the process robs the wheat of almost all of its health benefits, leaving a nutritionally weaker noodle.
Although some nutrients, including iron and B vitamins, are added back during manufacturing, making the product "enriched", these represent only a fraction of what is removed from the grain.
Whole wheat pasta may take time to catch on; so many restaurants don't yet have a whole wheat noodle option. (And Italian restaurants may never embrace whole wheat pasta), but the pasta aisle at the supermarket is filled with noodles having all sorts of different shapes, sizes, colors, and ingredients.  And from a nutritional standpoint, this is great news for shoppers as another opportunity to add whole grains to the menu.
True whole wheat pasta will list 100 percent durum whole wheat flour as the first or only ingredient. And check the front of package for "100 percent whole-wheat," or look for products that contain the orange WHOLE-GRAIN stamp.
Getting used to the taste of whole wheat pasta may take a little time, as it often has stronger flavor and a grainy consistency. Cooking time is key with whole wheat pasta, so it doesn't get too gummy— be sure to follow the directions on the package. But with the right sauce or topping, adding whole wheat pasta is an easy way to enjoy a healthy meal and sneak those whole grains into the diet.