October – Think Popping Popcorn!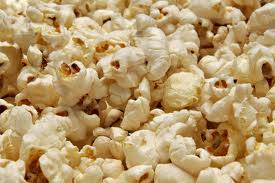 Yep, October is also popping popcorn month. Did you know popcorn counts as a whole grain? One serving of whole grains equals three cups of popcorn.
Popcorn is the only type of corn that pops. Each kernel of popcorn contains a small drop of water stored inside a circle of soft starch. When harvested, popcorn is dried so that it contains between 13.5-14% moisture, the amount it needs to pop. The soft starch is surrounded by the kernel's hard outer surface, the hull, which has just the right thickness to allow it to burst open when enough pressure builds inside.
As the kernel heats up, the water expands, creates steam, and cooks the starch inside, turning it into a liquid mass. Pressure builds inside and finally it reaches a point that breaks the hull open. The contents inflate and spill out, cooling immediately and forming the shape we know and love.
Here is a super cool web site all about popcorn: http://www.popcorn.org/. You can watch popcorn popping in super slow motion at the Popcorn Board's Web site And check out more fun facts, trivia and recipes while you're there!