Indoor Rowing – Endurance, Flexibility, Cardio, Resistance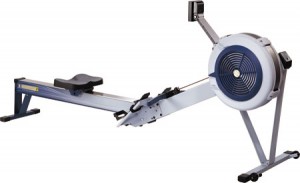 Lately, I have been trying to mix up my cardio between the treadmill, elliptical, and spinning. But lately another machine has been calling my name. It's faster than a speeding bullet, more powerful than a locomotive, works all the muscles in a single bound, Look! It's a rowing machine.
That's right, that little rowing machine off in the corner of the gym is one of the few super machines that work all the major muscles of the body at once while providing a cardio kick at the same time.
Starboard or Port? No need to memorize any boating terms to get a great rowing workout. Indoor rowing can be an endurance exercise, a flexibility exercise, a cardio exercise, and it invokes all the muscles of the body and trains them evenly. The pulling motion works the arms, shoulders, back, and abdomen. The legs, hips, and torso do the brunt of the work on the slide back, and it does this all with very little pressure on the joints. Because rowing is done with a fluid movement, the sliding motion doesn't jar elbows or knees like other types of exercise.
You can adjust the rowing machine to create a tighter resistance to tone and build muscles. For that aerobic advantage, keep the tension low to maintain less resistance and higher speed, which improves endurance along with lung, heart and circulation systems. Rowing machines offer the best of all worlds in one exercise.
The power in each stroke or pull controls the flywheel on the rowing machine, and proper technique is key. The rhythm to rowing is Catch, Drive, Finish, Recover.
Be careful when sitting, because all rowers have movable seat pads. Strap your feet flat, straighten the torso while contracting the abdominal muscles, and grab the bar in a palms down grip by bending the knees, not rounding the spine. This starting position is called the catch.
Drive back with the feet to straighten the legs and begin to pull the bar forcefully as the legs finish straightening out. The pulling stroke is a rapid, constant horizontal motion all the way into the mid-section. Recover by bending the knees and straightening the arms to start the forward sliding motion back to the start. Now do it all over again, and again, and again. Catch, Drive, Finish, Recover. Catch, Drive, Finish, Recover.