Set Yourself Up for Success – Tips to Start the Week Out Right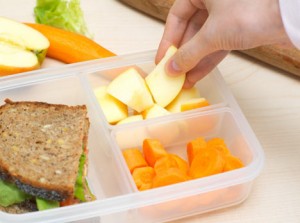 The Sunday night blues, you know that feeling of dread mixed with anticipation for the upcoming week. Everyone gets the SNB (Sunday Night Blues), at one time or another, and sometimes it can be every single Sunday.
Getting fit and healthy is hard work, and setting yourself up for a successful week is key to staying on track.  
Start your Monday off right, so you will stay on your healthy track all week. Just add a few simple steps on Sunday. (Courtesy of Fitsugar.com)
Wash Your Workout Clothes
We make sure our clothes, our kids clothes, and the hubbies clothes are ready to go, but don't forget the workout clothes. Starting the week with nothing to wear to the gym is an excuse waiting to happen. Start your washing machine or head to the laundromat to make sure your dresser is stocked with clean sports bras, work-out pants, wicking tanks and tees, socks and all the other gear you need to get your sweat on.
Plan a Menu for the Week
This is a must, and it sets the stage for a nutrition packed week. To prevent unneccesary trips through the drive-through, arm yourself with a meal plan for the week. Make a list of everything you will need for breakfast, lunch, dinner, and snacks, then head to the grocery store to shop for the ingredients. Tip: Leftovers are the working woman's best friend. There's no shame in cooking just two or three times and eating leftovers the other nights.
Chop a Bunch of Veggies
Wash and chop a bunch of veggies like carrots, celery, cukes, and cherry tomatoes. Store them in clear containers, so when you open your fridge their bright colors will catch your eye. You're more likely to snack on raw veggies throughout the week if they're already prepared. A plate of veggies and salsa is a great way to take care of any hunger pangs.
Make a Workout Schedule
Grab your calendar and schedule your workouts for the week. Write down times and the type of workout, just as if it were an appointment or business meeting. And make sure you stick to your schedule.
Make a New Workout Mix
A new favorite song can be just the thing to get you moving. Creating a new workout playlist can be a small act that can set the tone for your workout. Alternate between upbeat tunes and mellow ones for an interval workout, or make a 30-minute dance party mix for an intense cardio routine.
Roast Veggies for the Week
I love roasted veggies, so this tip is one of my faves. On Sunday night, fire up the oven and roast a dish of vegetables, like sweet potatoes, squash, green peppers, onions, etc.  that you can add to salads and entrees for the week's meals.
Pack your lunch
On Sunday night, pack your lunch for Monday. It's cheaper than eating out and usually healthier too. And no one likes to pack a lunch during the chaos of trying to getting ready and out the door on time.
Spin Some Salad
Wash and dry some lettuce in your salad spinner and store your greens so that they're ready to be turned into tasty salads for upcoming dinners and lunches. Or make a big salad and place it in the fridge in an airtight container so when Tuesday night rolls around, your salad is already made.
Have a great week!