So I took a poll among my favorite moms, and the number one body part that most of them want to improve is the BUTTOCKS (as my daughter would say in a kind of English accent).  Moms aren't the only ones either. A poll by Fitness Magazine found that the butt is the one body part that most people don't like about themselves.
I decided to put together a list of some of the best booty burning exercises to help you get ready for shorts and swim suits.
Five do-at-home exercises for five days. Here is #4. Choose a few faves or do them all to get great glutes.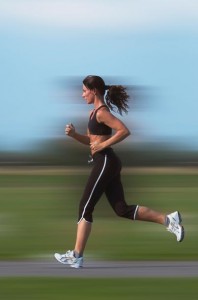 Run Your Butt Off
So this one isn't the do-it-front-of-the-TV option, but to add shape to your booty…RUN. On mother earth, if you can — not a treadmill, stair stepper, or elliptical. These machines are great for cardio and your thigh muscles, but they don't do anything for your butt muscles, mainly because the design of the machine doesn't allow the butt muscles to contract. And if you don't use it you'll lose it!
The biggest thing you can do to really boost your booty is to sprint. Have you ever noticed the butts on women sprinters in the Olympics… wow! Sprinting or interval training really firms up the muscles; because the faster you run the stronger your butt muscles have to contract in order to propel you forward.  So a 20-30 minute run with jogging and sprinting mixed in will do wonders for your buttocks.