Workout To The Max – Avoid These Three Mistakes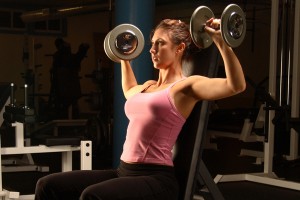 If you ask my husband, I am somewhat of a control freak.  My kids call it a KIADIA (know it all, do it all).  I am trying to work on this and lighten up a bit, but sometimes I just can't help it.
The gym is no different, as I am constantly critiquing people and telling them how to do each exercise better. Well, in my mind at least.
I have a list of pet peeves. Things I see people doing at the gym that make me crazy. I feel sorry for them a lot of times, because they make the effort to get to the gym at 5:00 AM, yet they don't live up to their full potential. So here is a list of my top three.
1. Resting way too long in between sets
If you go to the gym for a little relaxation and socializing, then that is one thing, but if you are there to work your body, then you want to keep that heart rate elevated to keep burning fat. A general rule is taking 30 to 60 seconds to rest before you move on. It will keep you in the fat burning zone, and as an added bonus you are done faster.
2. Forgetting the range of motion
For most exercises, it is important to go through the entire range of motion. The worst offenders are the people doing bicep curls without fully extending their arms.  I'm not sure what muscles they are working, but it is definitely not biceps. Using that full range of motion will challenge your muscles to the max and your results will show it.
3. Minding everything except your muscles
Don't just go through the motions of exercise. Give it 100% of your effort, by feeling the muscle working. Making that mind muscle connection will intensify your workout by paying attention to the task at hand. If you are doing a set of 12 reps, you should be struggling by rep 11. If that final rep is not a challenge, it is time to add more weight.
If you are going to do it, do it to the max.