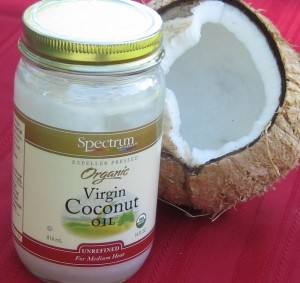 Looking refreshed, rejuvenated, and renewed is as easy as cracking into a jar of coconut oil. It's making a comeback in the culinary world to enhance cooking, but coconut oil is also used to enhance skin by working wonders on a host of dermis dilemmas.
Coconut Cream Surprise
Coconut oil is frequently used as an ingredient in expensive skin care products to aid in reducing the appearance of wrinkles and clearing up other skin ailments, so why not just go with straight coconut oil?
Not only is pure, unrefined coconut oil much cheaper than a trip to the cosmetics counter at Bloomingdale's (you cant beat $5 per jar that will last a few months), but it is an ideal agent for skin care because it's high level of antioxidants that penetrate into the underlying tissues.  Antioxidants are like soldiers in the war on wrinkles, strengthening the skin's connective tissues, helping prevent sun damage, healing the skin, and protecting it from the elements. Many conventional skin care products made with refined vegetable oils, have all the antioxidants stripped from them as a result of the refining process.
The small molecular structure of coconut oil allows for easy absorption through the skin, and even hair, giving both a soft, smooth texture, and making it ideal for the relief of even the driest. But coconut oil doesn't only have a soft side. It also has strong anti-bacterial, anti-viral, and anti-fungal properties which can fight conditions like acne, eczema, diaper rash, psoriasis, and fungal infections.
A little goes a long way. Just a dab of the stuff is enough to cover the entire face. No surprise that it tends to be a little greasy, but it is oil, yet it absorbs fairly fast.  As far as the smell goes, it smells like coconut, in a light, refreshing, beachy kind of way.
When buying coconut oil, don't be alarmed when it's packaged in its solid, rather than liquid state. This is quite normal, and be sure to look for the EVCO type (extra virgin coconut oil) to ensure buying it in the purest form.  Even though coconut oil is climbing up the social ladder and gaining popularity, it's still mainly found in health food stores and specialty groceries.